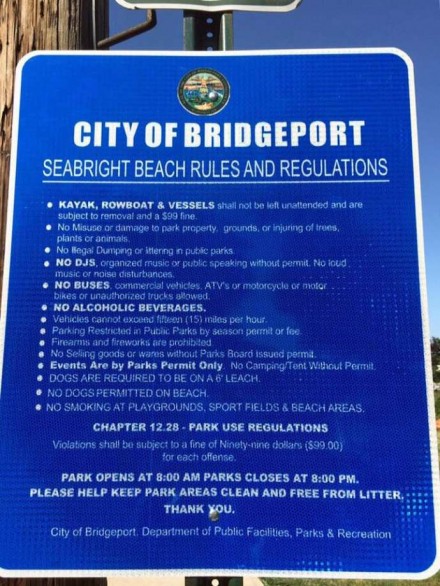 There are typos, then there are, well, serious typos. Leave it to those eagle-eye Black Rockers. From Meredith Guinness, Bridgeport Daily Voice:
The signs, which were posted this week at tiny Seabright Beach, offer a laundry list of rules banning everything from alcoholic beverages and unattended kayaks to ATVs, buses and "organized music or public speaking."
They've provoked dozens of angry and hilarious social media comments–mostly for the unfortunate misspellings and rules that would seem better suited for a larger space.

"PARK OPENS AT 8:00 AM PARKS (sic) CLOSES AT 8:00 PM," reads one line.< "Dogs are required to be on a 6' leach (sic)," reads another. If that weren't confusing enough, another line reads "No dogs permitted on beach." And one sign is posted directly over a Mutt Mitt dog waste bag dispenser, suggesting Max and Muffy are perfectly welcome to, er, do their business in the area.
Full story here.