The back and forth over removal and subsequent park board vote to return the Christopher Columbus statue to Seaside Park continues. Former State Rep. Chris Caruso says the best resolution is continuance of a community dialogue to bring both sides together on behalf of historical context.
A special meeting of the City Council's Miscellaneous Matters Committee will take place September 3 at 7 p.m. by Zoom/Teleconference to consider a resolution calling for the "Restoration of the Christopher Columbus statue to its original location in Seaside Park; Resolving to working together to unite the community in reaching an amicable resolution regarding this sensitive issue."
The public may listen into this meeting by calling the following conference line and then entering the conference code:
Dial In Number: (929) 436-2866
Meeting ID: 961 7777 9984
Passcode: 567229
Prior to the meeting a public hearing will take place at 6 p.m. by Zoom/Teleconference. The public may dial in by calling the following conference line and then entering the conference code:
Dial In Number: (929) 436-2866
Meeting ID: 995 7447 5047
Passcode: 100765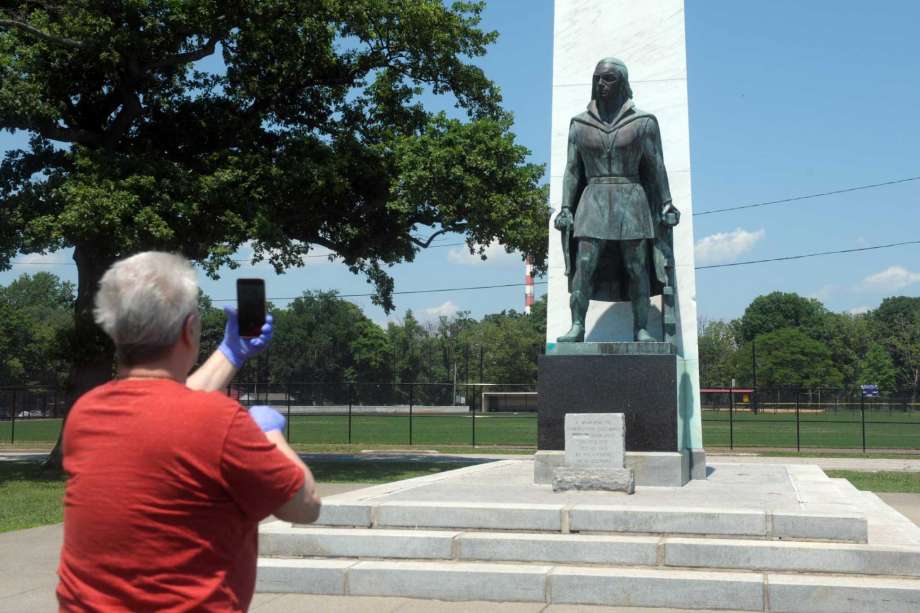 Following protests around the country and in Connecticut Mayor Joe Ganim had the statue removed and placed in storage as a public safety concern. The statue was dedicated in 1965 led by prominent Italian Americans including industrialist F. Francis "Hi-Hi" D'Addario.
The give and take on this issue has also played out in the OIB comments section with some supporting the statue's removal while some argue it's a misplaced power grab? Why should this take center stage with all the concerns going on including a health pandemic. What else ya got?
Still, the pushback continues from community activists who don't want the statue returned to a public park.
CT Post reporter Mike Mayko has more:
"Don't be surprised if one day you see Columbus with a Black face and wearing a Black Lives Matter T-shirt," said Lyle Hassan Jones, an imam. "He went down as one of the greatest kidnappers, rapists, murders and enslavers in history. Its return to Seaside Park is a slap in the face to all Black, brown and Indigenous people."

"That's considered a threat," said Chris Caruso, a former state representative and official with the Council of Italian American Societies. "Everyone is entitled to an opinion, but not allowed to make threats. I have given most of my adult life as a public servant in Bridgeport and never have I been shouted at and yelled at like I have been over the placement of this statue."

Caruso said neither he nor the Italian Community is going to sit by and be dictated to.

"The Italian Community worked 40 years to raise money for this statue," he said. "We will not be beaten up, threatened, attacked, marginalized or have demands placed upon us."

… As to the new history of Columbus depicting him as engaging criminal acts, Caruso disagreed.

"Most of their historical opinions are wrong, and if we were able to sit down and have a discussion as a group of mature adults, I would point this out to them," Caruso said.
Full story here.