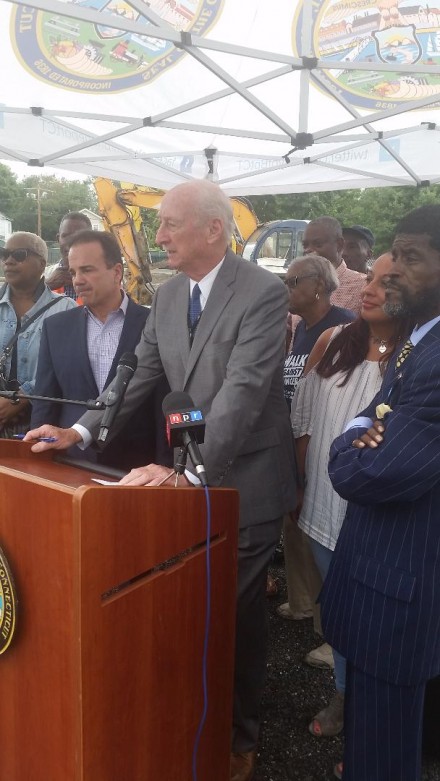 Need a java jolt for this election cycle? Four weeks to the general election featuring races for governor, General Assembly and federal offices. So far it's been rather sleepy with the Supreme Court confirmation hearings gripping interest nationally. Still, there's a lot on the line in Connecticut with an open seat for governor and the State Senate locked at 18 ahead of a new legislative session in January.

Maybe we're waiting for next year's municipal cycle to juice political energy? Maybe not. Mayor Joe Ganim has raised about $200k for 2019 against no announced opponents but with some higher-profile pols giving it consideration, or being pushed that way. Among them State Senator Marilyn Moore, State Rep. Chris Rosario and former State Senator Andres Ayala. When we last heard from him publicly in January 2016 Ayala resigned as commissioner of the Department of Motor Vehicles after a nightmarish year of problems.
Ganim enters the municipal cycle coming off a failed run for governor. (Anyone remember that?) If Joe's suffering from a post-primary-loss hangover to Ned Lamont it's not showing publicly. He's announced economic development initiatives in several neighborhoods with an eye toward reelection including a retail-grocery store project in the East End, ice rink and apartments proposed for Downtown and an update regarding the ongoing project to revitalize the troubled Marina Village housing complex in the South End. The Steelpointe Harbor redevelopment area is also going vertical with marina and oyster bar under construction.
Transformation of the former ballpark at Harbor Yard into a 5,500 seat amphitheater for warm-weather concerts is also underway with a projected opening mid summer 2019. Ganim will not raise taxes in an election year, making three straight years of holding the line after the 2016 implementation of property revaluation clobbered some neighborhoods such as Black Rock.
It's difficult to take out an incumbent mayor in a primary where things are settled in Bridgeport given the Democrats 10-1 registration advantage over Republicans. It has only happened once in the city's history when in 2015 Ganim lanced Bill Finch on his way to a general election victory and an improbable comeback.
Ayala has been making the rounds trying to generate support for a run. Who will back him? Can he raise money? How can he run a city after his crash at the DMV?
Moore and Rosario have been in the public eye the past several years emerging with legislative leadership positions that bolster profile and standing. Why mess with that when they have seemingly safe seats. For them it's a free run, assuming they win reelection next month. But both will be involved heavily in the legislative session that extends into June while trying to raise money and build coalitions in advance of a September mayoral primary against a skilled retail politician like Ganim. Might be more trouble than it's worth.
A lot of this depends on the visibility of economic development projects next year, city crime rate and fire in the bellies of potential candidates. No fire, no campaign energy.
The anti-Ganim crowd doesn't have a candidate yet it can rally behind.
There's some political chatter, real or imagined, if Lamont becomes governor he'd offer Ganim a state job, setting up a free-for-all mayoral election. If that happens, what could Lamont offer that Ganim wants? Would Ned even make an offer?