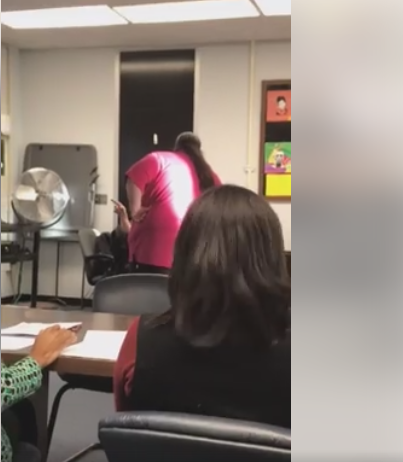 Do words matter? They do for Albert Benejan, a city school parent offended by comments Board of Education member Maria Pereira made involving his son–that he says regard health issues–in the OIB comments section. He expressed frustration, vociferously in the face of Pereira, at Wednesday night's school board meeting. A video capturing the drama that was posted on Democratic Town Committee member Shawn Duque's Facebook page was taken down.
What's the genesis of this? OIB posted a story, see here, regarding Superintendent of Schools Aresta Johnson announcing her departure from the district. It prompted a series of opinions in the comments section, including an exchange between Pereira and City Councilman Ernie Newton who've been engaged in ongoing tit for tat over a variety of political issues.
Benejan responded to a comment posted by Newton that he feels Pereira unfairly infiltrated.
Is sad , but I agree with you , Mr. Newton . And all this affect our students of Bridgeport Schools
Pereira's comment:
Fluffy, you would. You are just like Ernie Newton. You cannot spell, capitalize, punctuate or right a comprehensive sentence, yet you want to serve on the school board.

You have so much in common with Ernest Newton.
Benejan responds:
Mrs.Pereira

Please do not answer any of my comments, because I am not talking to you in total. I'm answering Mr.Newton. But since you addressed me so unprofessional I want you to know that this is not your problem, how do I write , spell ,capitalize ,punctuate or the way I write my comments, it is not your concerns . Whether or not , I am on School Board, I will never disrespect parents, students, teachers, city council people and the community, as you have done for many years.

And by the way this is the way you have to type the word – Write
Not the way you did it–right

I ask you not to address me at all, in, email, calls, text or personnel, I will call you the the authorities
Pereira's response:
Albert, you are on a blog, therefore you have no right to privacy.

Feel free to call the "authorities." Feel free to "write" them as well.

You have disrespected many parents, principals, staff and community members.

Your son has arrived late to school over 100 times at Bassick High School last year, and he continues to consistently arrive late this year, and you drive him to school. That is a direct reflection on you as a parent.

I visited Bassick HS at 9:45 AM and your son was just arriving ahead of me.

What kind of responsible parent drives his teenage student to school late over 100 times in a 182 day school year?
Benejan says it involves a health issue.
Back to the video taken down, at the Wednesday night meeting, Benejan envelops Pereira emotionally. In monotone, she declares repeatedly "move away from me." After providing an earful, he moves back to his audience seat.
During the confrontation, Johnson had directed her staff to leave the meeting room.
Pereira, after the meeting, asserted her OIB comments do not criticize Benejan's son. "The comments are about his failure as a parent, not his innocent child."