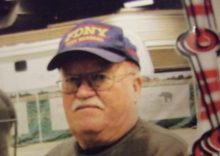 Update: includes services. Growly, passionate, outspoken, irascible, craggy-faced; firefighter, husband, father, grandfather. Andy Fardy was all those things. The retired city arson investigator and charter reader of OIB passed away late Wednesday morning in St. Vincent's Medical Center. He was 75. His wife Pat notified OIB of his passing.
In recent years Fardy had struggled with chronic obstructive pulmonary disease, something he would occasionally share in the commentary section of OIB after years of smoking. Born in Bridgeport, Fardy graduated from Harding High School. He was a rock-solid resident of the Upper East Side for decades.
After service in the U.S. Navy, Fardy joined the Bridgeport Fire Department where he earned his stripes as an arson investigator during a period of intense neighborhood flareups. When he retired from the department he went into the private sector taking his investigative skills to Travelers as an insurance investigator.
Along the way, he became an establishment Democrat in Bridgeport politics serving many years on the Democratic Town Committee. Bridgeport parks was part of his passion, serving many years on the Parks Commission. In recent years, however, he became disillusioned with the direction of party politics buttressed by numerous commentary pieces he wrote for OIB.
If Fardy liked you, you knew it. If he didn't like you, you knew it. There was very little gray when it came to Fardy. He did not mess around with perfumy niceties. He was as candid as a burst of thunder, often engaging OIB readers on a number of subjects.
He could also show a soft side too when it came to children as defined by his years volunteering for city youth programs including as coach at the local Little League.
In addition to his wife Pat he is survived by sons Shawn and Seth and eight grandchildren.
Friends may call on Sunday December 16, noon to 3:30 pm, followed by a service at Dennis & D'Arcy Abriola & Kelemen Funeral Home, 2611 Main Street, Stratford.

In lieu of flowers please make contributions to the Connecticut Firefighters Charitable Foundation, 200 Oronoque Lane, Stratford,CT 06614
In 2014, Fardy wrote about his health condition in an OIB commentary following City Council consideration of a proposed smoking ban in city parks.
I would like to comment on the recent meeting of the ordinance committee in which they discussed a smoking ban in the parks. My question is why pass another law that will not be enforced and if it is do I want to tie up one of the few patrolmen we have in the streets with this nonsense? It's like the curfew law. How is that going?

I am a former smoker who 10 months ago was found to have COPD. I have that disease and I have no one to blame but myself. I still feel we should not pass this law. If we do ban smoking, shouldn't we ban the use of charcoal grills in the parks? I know that sounds silly but there is a health hazard in burning charcoal.

Dr. Michael Roizen MD in Internal Medicine states charcoal produces soot that irritates respiratory conditions such as Asthma and releases carcinogenic VOC Benzene so stay away from the smoke. He also states stay away from quick-start charcoal soaked with lighter fluids.

So I guess if we are going to protect the public in the outdoors from smoking then we have to do the same with charcoal grilling.