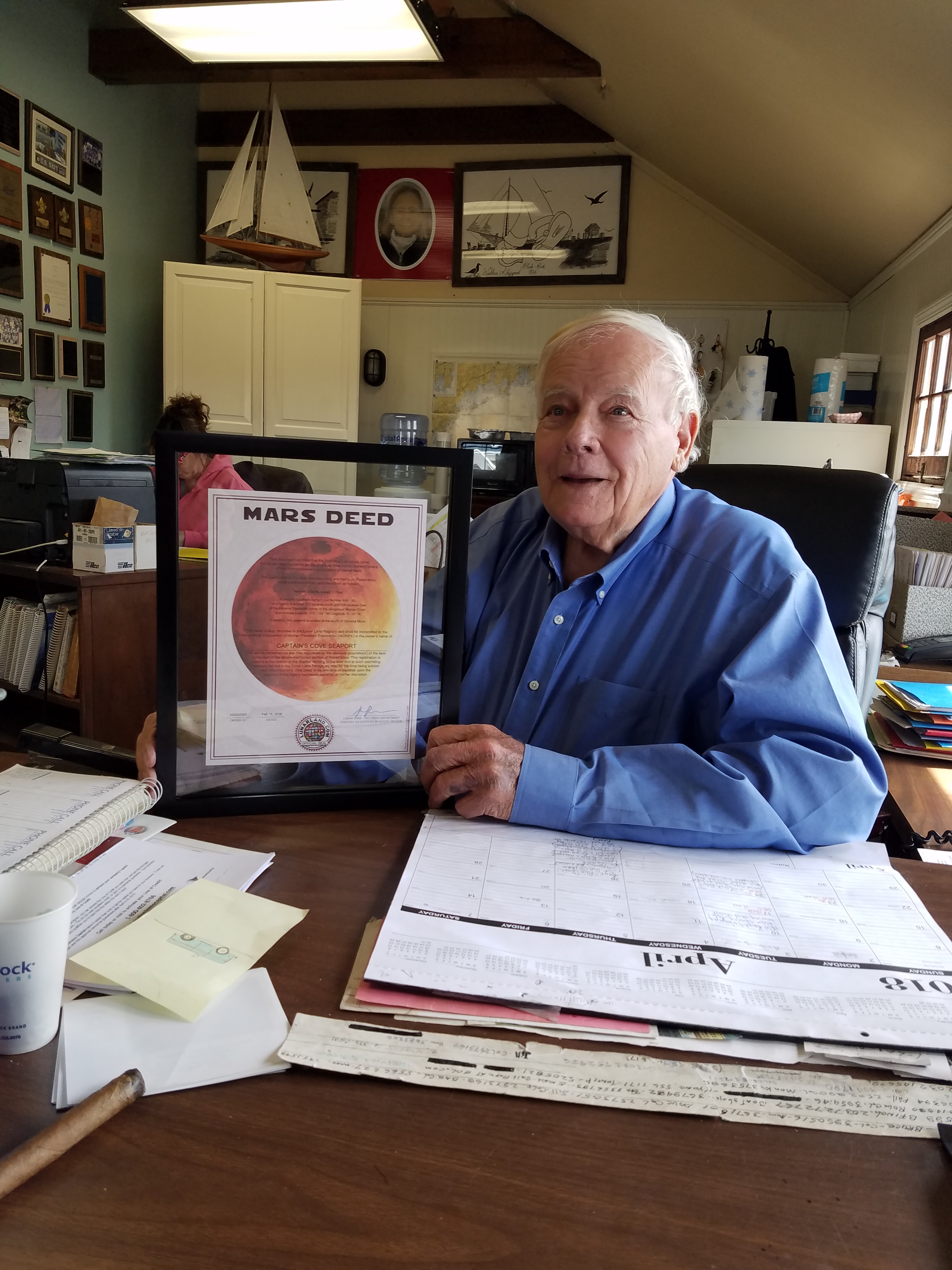 Kaye Williams, the visionary who turned a city-run dump of a boatyard into Captain's Cove Seaport, one of the region's premier tourist draws, with its scenic restaurant overlooking Black Rock Harbor, weekend parties, boardwalk, slips for boats from fishing skiffs to sailing yachts, is OIB correspondent Bob Frederick's latest interview in celebration of Bridgeport's Bicentennial.
The Cove also hosts the annual Swim Across the Sound fundraising event to battle cancer, spawned by St. Vincent's Medical Center. And, though he'll turn 92 in April, Kaye's still at it, with a tongue-in-cheek quest to open the first fish shack on Mars, to continuing to work at the Cove, and most recently painting flags for the boardwalk from his Black Rock shop.
The Cove reopens May 7.
Q. What is your first memory of Bridgeport?
A. My first memory is getting the "bean box" delivered to our house on Denver Avenue during the depression. The "bean box" was a surplus WWI rifle box full of food given to poor families during that time. The box contained beans and heavily salted ham (which had to be boiled over and over to get rid of the salt). It also contained dates which I had to eat but didn't like. I hate dates until this time!
Q. What are your ties to Bridgeport?
A. I was born in the attic of my grandmother's house on Denver Avenue in the West End during a snow storm. I grew up there and in a small cottage on Fayerweather island. I started a marine store business in Black Rock in the 1950s then went into commercial lobstering. In 1981, I founded Captain's Cove Seaport with my late wife Vivian. One of our proudest achievements is our involvement with the "Swim Across the Sound."
Q. What do you like best about Bridgeport?
A. Its people!
Q. What is your favorite spot in Bridgeport?
A. My favorite spot was always Pleasure Beach. I used to go dancing there at the Ballroom. About 1946, the famous swimmer Buster Crabbe held auditions at Pleasure Beach for his traveling show. I was a good swimmer at the time and was selected to be part of his troupe. Unfortunately for me my father John had other ideas. The morning I was about to leave with Crabbe, John dragged me out of bed and took me ironworking with him. That was the end of my swimming career!
Q. What is your favorite eatery in Bridgeport?
A. My favorite eatery when I was growing up was Central Lunch on Fairfield Avenue in the West End.
Q. Where do you see the city going?
A. I think the city is going in a good direction with all the development in Bridgeport Harbor. Our waterfront is our strength.
Q. If you had a magic wand and could make a miracle happen for the city, what would it be?
A. I would bring back jobs to the city. When I grew up there were tens of thousands of craftsmen, mechanics, tool and die makers and so on working in the city. It was so busy round the clock. I'd like to see that again!