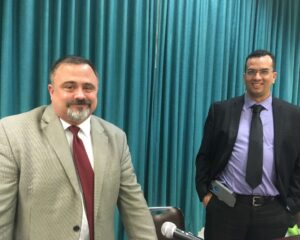 John Weldon and Joe Sokolovic
Board of Education Chair John Weldon has resigned his seat following a maelstrom over the search for a new superintendent of schools and calls for his ouster from the Greater Bridgeport NAACP and the civic organization FaithActs for Education.
Weldon also butted heads with board member Joe Sokolovic over a series of issues boiling over to stripping Sokolovic from committee assignments.
Sokolovic has regularly criticized Weldon of back-room dealing, unnecessary closed door sessions and violations of freedom of information regulations.
Weldon, a Republican, was appointed to the board in 2016 by Mayor Joe Ganim to fill a vacancy. He then won two, four-year terms on his own to the board that requires minority-party representation.
The mayor has the authority to fill school board vacancies if the board does not act within 30 days of a resignation.
Weldon joined the board during a time of volatility involving members Dennis Bradley and Maria Pereira and then Jessica Martinez, as well as a revolving door of board chairs.
More from Richard Chumney, CT Post
John Weldon, the embattled chairperson of the Bridgeport Board of Education, who has faced mounting criticism over his handling of the district's search for a new superintendent, has resigned.

Weldon resigned his seat in a letter Tuesday to school board members and city officials. The resignation was effective immediately, according to a copy of the letter obtained by Hearst Connecticut Media.

"My time on the Board has been an enlightening experience that I will always remember," Weldon wrote in the brief one-paragraph letter. "I wish you all well as you move into the future."

Weldon, a Republican, did not offer a reason for his resignation and did not immediately respond to a request for comment, but the decision comes in the wake of a series of controversial board decisions involving the search to replace former Superintendent Michael Testani.
Full story here.