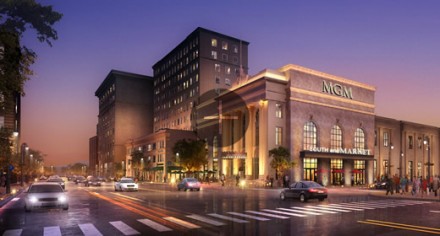 Proponents of casino expansion in Bridgeport–irrespective of Connecticut's two tribal nations joining forces for a third state casino in East Windsor to protect their interests from MGM Resorts International's Springfield, Massachusetts enterprise–are not giving up, according to Bridgeport State Rep. Chris Rosario who says a bill to open up the gaming process will be heard next week.

"I would like legislation that allows Bridgeport to be able to consider bringing in development and studies show that southwestern Connecticut would bring in more jobs and revenue from the New York market versus eating up Connecticut resident dollars," he says. "I believe that there is a vibe to at least explore the options."
Rosario is referring to proposed legislation before the state legislature's Public Safety Committee that calls for a "competitive process to issue a gaming license."
From the gaming bill:
On or before October 1, 2017, the commissioner shall develop and issue a request for proposals for the development, management and operation of a possible casino gaming facility in the state. The request for proposals shall require any person or business organization submitting a proposal to provide an outline of the significant benefits that the proposed gaming facility will bring to the municipality in which the casino gaming facility may be located, the surrounding municipalities and the state, and a plan to attract both residents and tourists to the casino gaming facility.
Does the bill have a pulse?
About 25 years ago, then Governor Lowell Weicker entered the state into a gaming compact that provided exclusivity in exchange for the state receiving 25 percent of the slot take from tribal nation casinos. Break the compact and the money spigot ends, unless the tribal nations–as was the case 22 years ago when a gaming bill for Bridgeport was rejected by the State Senate–are part of the deal or the economic benefits transcend the gaming compact dough. Bridgeport has benefited financially from that gaming compact, with millions coming in annually, but Bridgeport gaming proponents assert the city is missing out from the larger economic benefits that come with being a host community.
Gaming expansion is a grueling sell without the tribal nations who run Foxwoods and Mohegan Sun part of the mix. But there's a new wrinkle in their partnership, the East Windsor location is off sovereign land, as noted by MGM Resorts. How does that jibe with the gaming compact?
Could the tribal nations become a partner in a Bridgeport satellite facility? Connecticut is already one of the biggest bookies in the country. Give them a piece and it doesn't break the compact.
What could be a potential Bridgeport location? Winners Shoreline Star on Kossuth Street, the former jai-alai and dog track location and current parimutuel simulcast facility that's already a licensed gaming venue. Advocates say it's built as a potential satellite slot location within walking distance from the Bass Pro Shops that anchors the Steel Point redevelopment area.
MGM Resorts lobbyists–to protect its north Connecticut market–make the case that Bridgeport is a stronger location for a gaming facility given the city's transportation nexus and accessible wealthy suburbs: let Connecticut's tribal nations expand there.
Not a likely scenario but Rosario and his State House colleague Ezequiel Santiago both represent the area. They're not giving up.
The Connecticut Post editorial page is also urging the state legislature to approve a casino for Bridgeport. See here.