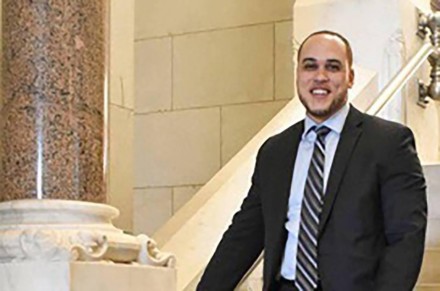 Backed by incumbent Ed Gomes, Aaron Turner has filed paperwork to follow his former boss' footsteps to represent Connecticut's 23rd State Senate District which covers about two thirds of Bridgeport and a portion of western Stratford. Others are interested in the seat such as school board member Dennis Bradley and former local NAACP leader Carolyn Vermont.

"For me, this is bigger than just a run for state senate," Turner stated Wednesday. "This campaign represents the people of Bridgeport who have shared in the pride, as well as the challenges, that comes with being born and raised in this city. My family faced many of the same issues that kids in Bridgeport and Stratford are facing today, such as parents having to work two, three jobs to makes ends meet, a woefully underfunded public school system, and the constant presence of violence and drug abuse. Despite these challenges, I went to UConn and came back to work in public service after graduating. I know what makes this district great, and I want to be a leader in helping our community build stronger together, and to fight for policies that will positively impact our people."
Turner's former boss Gomes says Turner has his full backing. Gomes, 82 years old, announced several weeks ago he will not seek reelection.
"Aaron Turner is a man of integrity, intelligence, and high moral character, and I am incredibly proud to see him step up and run to succeed me in representing the 23rd Senate District. Even though Aaron was my aide in the capitol, we really worked as partners to deliver the best possible results for the district, and I saw him grow over the time we worked together. His family goes back generations in Bridgeport and I know that there is no one who knows the needs of this city better, and who would work harder to help our people as Aaron."
Turner it appears will also enjoy the backing of Bridgeport Working Families Party activists. Gomes was propelled to victory in a 2015 special election running on the Connecticut Working Families Party line after the resignation of Andres Ayala who had been appointed chief of the state Department of Motor Vehicles.
"Aaron represents the next generation of thoughtful and passionate leaders that we need in this district," said Sauda Baraka, chair of the Bridgeport Working Families Party. "Senator Gomes has been an excellent Senator and I know that Aaron will build on his legacy with fresh ideas and a vision for the future of Bridgeport and Stratford that will help shape where our city goes in the years to come."
Turner is an Employment Specialist at the Workplace in Bridgeport. Prior to that he served as Gomes' legislative aide. Turner serves as Governmental Relations Chair for the Greater Bridgeport NAACP. He is a Bridgeport YMCA board member. Turner helped organize police accountability rallies in Bridgeport following the Trayvon Martin and Michael Brown cases to promote awareness regarding the wrongful deaths of people of color in the United States.
In 2016 he helped revive the Greater Bridgeport Young Dems whose membership has sparked renewed political activity in city campaigns.