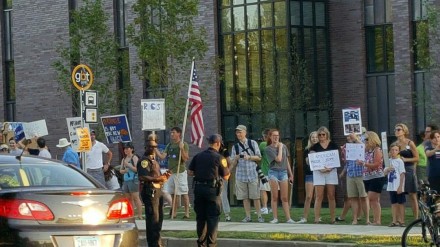 Losing steam in the polls and support within the Republican ranks, Donald Trump rolled into Sacred Heart University Saturday night full of blistering attacks. OIB friend Sue Katz was there and shares some images.

From Neil Vigdor, CT Post:
The William H. Pitt Center, the university's basketball arena, felt more like a sauna, with 4,000 to 5,000 people wreaking havoc on the air conditioning. Outside, an overflow crowd listened to an unscripted Trump hurl insults at "crooked Hillary and Connecticut's governor, Dannel P. Malloy, while protesters dotted a nearby intersection.
Full story here.
Hartford Courant coverage here.