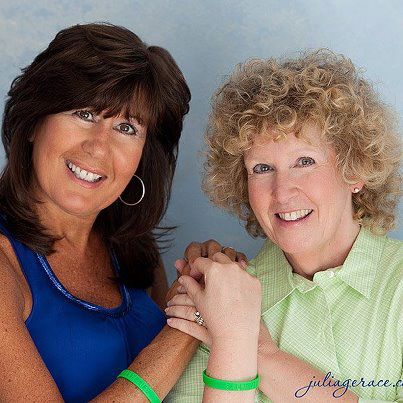 A new year, a new beginning, a new life. Think about the things that matter. Val Sorrentino and Karen Silvernail came together in 2012 so 2013 and beyond will endure for them, their families and anyone who wants to follow their example. Karen donated a kidney to her friend Val. They share the poignancy below in their own words, to embrace a new year, new lives and renewed spirit.
Val's Story:
It's hard to believe that I spent the holidays of 2011 in end-stage renal failure, worrying about my future. It's even harder to believe that Karen, my dear friend of more than 30 years, offered to give me a kidney and that she was actually a match. I received one of Karen's kidneys on August 2, 2012 and after some bumps in the road, we have both recuperated and are doing great. Now it's 2013 and, miraculously, it is all behind us.


I'm not going to lie. The last year was difficult. Even though Karen was a blood and tissue match, she had to be in excellent health in order to donate a kidney. She endured months of tests and repeat tests before she was finally approved to be a donor. During this waiting period, my health was failing. I struggled to get through each day and my employer was less than sympathetic. It was a scary time.

The fact that I have Karen's kidney in me is at times surreal. The kidney was placed in my lower abdomen by my hip bone and I can actually feel it. It is a constant reminder of the miracle of modern medicine and the generosity and kindness of a good friend. I thank God every night for my new kidney and for bringing Karen into my life.

Each month I go to Yale to meet with my nephrologist. As I sit in the crowded transplant waiting area, I am surrounded by people who, each and every one, received a kidney from a known or unknown donor. We are all alive and well today because of the kindness of others.

I am approaching the 5-month anniversary of the transplant and the experience has changed me. It has renewed my faith in people and in the power of a higher being. Not many people get a second chance at life. Thanks to Karen, I now have that chance. I have a chance to be a better person. I have a chance to pay it forward. And that's exactly what I intend to do in 2013.

Karen's story:

It's a funny thing. You know those Friday afternoons when you think, "when will this day ever end!?!?!?" The week seems endless, time moving like a snail. Well that is definitely not the case of the past 10 months. Since February of 2012, life and the amazing process that Val and I experienced truly sped by. Yes, it's true, it was quite difficult–waiting to hear for that much-anticipated phone call from Yale saying "you are a match," but the truth is, once I heard that Val needed a kidney, I knew it was meant to be.

Val and I totally trusted all the Doctors, Nurses and transplant coordinators at Yale. We also knew our guardian angels would be by our sides and we are both very fortunate to be blessed with wonderful families and friends who helped us the whole way.

I know I have said this before but it's worth saying again. How often in life are we given the opportunity to actually improve a friend's health? Well I was lucky enough to be given the chance and we are both grateful and humbled by the experience.

Both Karen and Val want to tell their stories to raise awareness about organ donation. People can go to www.donatelife.net and register online to become organ donors. People can also be live donors like Karen. Most people know that you can give blood but don't know that you can give bone marrow, a part of a liver or a kidney and still live a long and healthy life. That's the message they want to get out there. Please feel free to pass this story on so that others may be helped. Thank you.