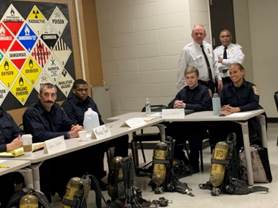 It's been more than a decade, but on Thursday Mayor Joe Ganim announced the hiring of two female firefighters as part of a new class of 15, all of whom are city residents, according to the city.
What held females back? The rigorous demands of the Candidate Physical Ability Test (CPAT). Last year the city implemented a recruitment drive with a heavy emphasis on attracting female candidates.
CPAT has come under fire in the OIB comments section by retired Bridgeport firefighters Donald Day and Ron Mackey who assert plenty of dedicated female firefighters have served ably in the past without it.
CPAT certification became a standard under then Bridgeport Fire Chief Brian Rooney more than 10 years ago. Since that time not one female firefighter had been hired. Until now.
Ganim, a fit 60-year-old, took CPAT and passed acknowledging the strength-sapping process. Instructors, as part of the recruitment drive for women, showed how to leverage core muscles to navigate the drills.
The new class will now train at the Connecticut Fire Academy located in Windsor Locks, undergoing a 70-day, 14-week resident course that focuses on developing the knowledge, skills and abilities needed to optimally perform on the job, according to the city.
"All through the ranks, you'll find that the leadership in our Fire Department understands the challenges of the job, but also how to engage with and serve the community," Ganim told the recruits. "You've made it this far and there's no doubt in my mind that you will be a part of the success of this Department."
The class of 15 will be officially sworn in June 2020.
Demographic breakdown of class: 13 males, two females, eight white, three black, four Hispanic, age range 20-45. Among females, 1 black, 1 Hispanic.
Fire Chief Richard Thode had urged the recruitment of more female firefighters to the department. Given the right training more women are prepared for the physical demands that require core body and leg leverage support, according to those who've passed the test.
The test includes wearing a 50-pound vest to simulate firefighter activities as well as an additional 25 pounds of weights on shoulders for a stair climb challenge. Eight obstacles must be completed in under 10 minutes and 20 seconds.
1. Stair Climb
2. Hose Drag
3. Equipment Carry
4. Ladder Raise & Extension
5. Forcible Entry
6. Search
7. Rescue
8. Ceiling Breach & Pull