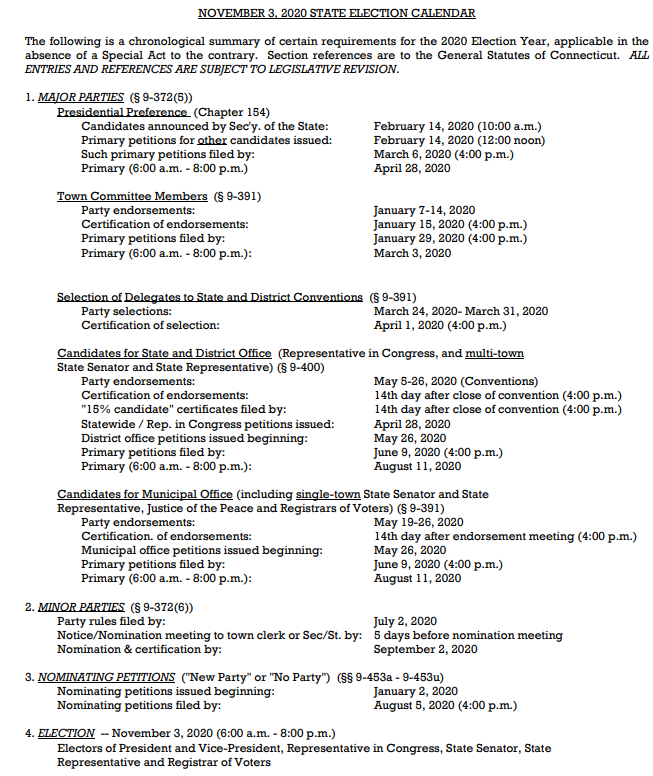 The business of electioneering never really ends in Connecticut's largest city. Glory be for that because OIB would be out of business. 2020 is a presidential year that includes elections for Congress, state senator, state representative and registrar of voters.
The office of the Connecticut Secretary of the State has posted key dates in the 2020 election cycle (see above) including the process to select town committee members starting in January in advance of potential March 3 primaries.
The 90-member Bridgeport Democratic Town Committee conducts party business, selects a chairman and endorses candidates for public office. It makes up the so-called party machinery. The body covers 10 districts with nine members in each.
Members may be challenged in a March 3 primary decided by Democratic voters. Primary petitions become available in mid-January to secure signatures from five percent of registered Democrats in respective districts. It's not winning slate takes all. The top nine vote receivers become district members.
Shortly after the vote members will select party officers including a chair. Mario Testa has served that role for 22 of the past 27 years.
In late March delegates selected by town committee members will be chosen to endorse candidates for state and district conventions for legislative seats. Endorsement conventions will take place in May in advance of potential August primaries because this is a state cycle and not municipal which occur in September.
Bridgeport has six State House members: Chris Rosario, Steve Stafstrom, Jack Hennessy, Charlie Stallworth, Andre Baker and Antonio Felipe. State House candidates in Bridgeport, because the respective districts are confined within one community, are endorsed by town committee members. Primary challengers must petition onto the August ballot, a process that begins May 26.
Bridgeport is represented by two state senators in split districts: Marilyn Moore covering about one third of Bridgeport, all of Trumbull and a portion on Monroe, and Dennis Bradley the rest of Bridgeport and a piece of Stratford. Anyone challenging Moore or Bradley (assuming they are party endorsed) can qualify for a primary by securing 15 percent of the delegate support at the endorsement convention. Failing that challengers can also petition onto the ballot for an August primary.