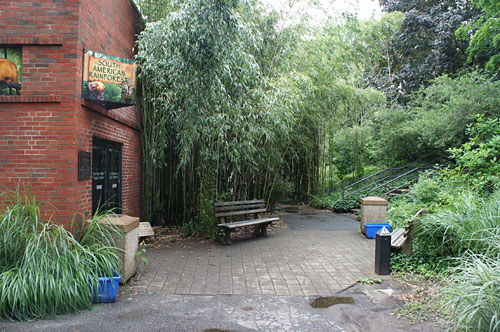 Before there was a zoo a golf course occupied the terrain of Connecticut's Beardsley Zoo. Circa 1920, then-journalist Ed Sullivan who'd become the celebrated variety show host played golf there with Bridgeport's own golf champion Gene Sarazen who spent his early years utilizing the track.
In 1878, wealthy farmer James Beardsley donated an initial 100 acres of parkland to the city to create a country-like feel in a growing industrial community. He later added another 50 acres to his complete his gift.
In 1920, Bridgeport Parks Commissioner Wesley Hayes, noting the city was the winter headquarters of the circus started by P.T. Barnum, launched a campaign for a city zoo. In 1922, the zoo opened with 18 donated birds and some Barnum & Bailey Circus retirees.
More from the zoo:
There was a time in the not-so-distant past when farmers still were easily found within city limits, the city of Bridgeport hired famous landscape architects like Frederick Law Olmsted to design park grounds, and the zoo founded by circus impresario P.T. Barnum donated retired circus animals to help create the region's first Zoo. The history of the Zoo and the city of Bridgeport will always be inextricably entwined. Connecticut's Beardsley Zoo celebrates its 100th anniversary in 2022, with a rich and varied history in the state's most populous city.

In a world where conservation of endangered species becomes more important with every passing year, the Zoo has risen to meet the challenge of preserving wild animals and wild places for future generations. As the birthplace of endangered animals like Amur tigers, Amur leopards, golden lion tamarins and red wolves, every Zoo renovation and new habitat seeks first to make a safe and appropriate home for animals, and then to open a window to a new world for guests. With more than 350 animals, attracting nearly 300,000 guests from the state and the region, there was a time in the past when the Zoo was home to 1,000 animals, including circus retirees and unwanted pets.

The history of the zoo began with the circus founded by Barnum exercising circus animals along the streets of Bridgeport in the early 1900s. As people began to gather to watch the animals like camels and zebras go by, Parks Commissioner Wesley Hayes began a citywide campaign in 1920 for a zoo to be founded in the park. That first year, exotic birds including macaws, toucans, pheasants, and peacocks took up residence in the 100-acre parkland, donated in 1878 by James W. Beardsley, a wealthy farmer from Monroe.

Within a few years, the Zoo had acquired kangaroos, zebras, and a camel donated by the Barnum and Baily Circus. By 1956, the Zoo's collection totaled more than 1,000 animals, including woodchucks, porcupines, Galapagos tortoises, and several species of monkeys. As zoos nationwide began to focus on endangered species, the Zoo reduced its collection to around 500 animals in 1962.

In 1975, Gregg Dancho, the Zoo's current director, began volunteering to earn class credits at Bunnell High School in Stratford. With an eye on the Zoo's potential, he became a full-time zookeeper in 1980, and the Zoo's director in 1983. The Zoo began modernization, modifying the hoof stock area and converting the former "monkey house" into a New World Rainforest Building. In 1987, the Zoo achieved professional accreditation from the Association of Zoos and Aquariums (AZA), a rigorous membership that focuses on animal welfare, nutrition, veterinary care, enrichment and saving endangered species through the Species Survival Program (SSP).

In 1997, the Zoo's ownership was transferred to the Connecticut Zoological Society, and became a private, non-profit organization. Today's Zoo has a mission of conservation, education, research, and guest experience. In recent years, the Zoo has opened new habitats for red pandas and spider monkeys and is finishing construction shortly on a new Andean bear habitat. The New England Farmyard has undergone a recent renovation, reopening in 2021 as a home for heritage breeds like Dexter cattle, guinea hogs, goats, and miniature horses. A new Adventure Amphitheater is home to educational presentations for students and Zoo guests.

"I remember coming here as a child to see the bear," says Dancho. "When the Zoo began, there was no television or internet, and it started people thinking about why and how we should protect animals. The personal, one-on-one connections were very important." Many of today's most influential conservationists, he added, became interested in animals because of going to zoos.

The Zoo will celebrate its 100th birthday on June 25, 2022, with a party for Zoo guests visiting that day, including:
· A birthday cake bake-off
· A Sneak Peek at the summer's Centennial Celebration Animal Show
· Proclamations from the city of Bridgeport and the state
· Visits from local dignitaries
· "Win a Free Birthday Party" Contest
· Entertainment on the Peacock Pavilion stage: Lost Rebel, a four-piece classic rock band
· Time capsule/Tree Planting

In addition, the Zoo will host Sunday Serenades and animal shows all summer long. In September, "Glow Wild," an evening Asian lantern experience begins and continues through November. On October 29, the Zoo will celebrate with a Centennial Gala held at the Inn at Longshore in Westport.