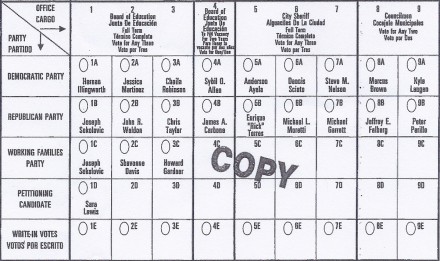 Two weeks from the Nov. 7 general election. Here's how the ballot lines up.

Top line Democrats for four-year Board of Education positions: Hernan Illingworth, Jessica Martinez, Chaila Robinson.
Republican Party school board: Joseph Sokolovic, John Weldon, Chris Taylor.
Working Families Party school board: Joseph Sokolovic, Shavonne Davis, Howard Gardner.
There's a new school board wrinkle this cycle by virtue of Mayor Joe Ganim appointing John Weldon last year to fill the vacancy of Republican Kevin McSpirit who was elected in 2015. As a result voters will choose between Democrat Sybil Allen, a retired educator and former city councilor, and Republican Jim Carbone, a former school board member, to fill out the final two years of McSpirit's four-year term.
Bridgeport has nine school board seats with elections staggered every two years to fill four-year terms. Connecticut's minority-party representation rules limits to six the number of members from a major party. Dennis Bradley, Maria Pereira and Ben Walker are incumbent Democrats not up for reelection until 2019. So only three more of the four Democrats appearing on the Nov. 7 ballot may serve. Republicans will slug it out with WFP candidates to fill out those three minority party slots.
Sokolovic would appear to have a leg up on one of those positions because his name is on two lines having been endorsed by city Republicans and the WFP.
The remainder of the ballot is filled out by citywide city sheriff positions and district City Council seats.
The next mayoral election is 2019.
There is also a Nov. 7 ballot question regarding financing the city's library system.
"Shall a one thirty hundredths (1.30) mill tax be levied to operate a free public library and reading room?"
The genesis of financing the main library and branches goes back to 2009 when city voters approved a ballot question levying one mil to cover library expenses.
More on this here.