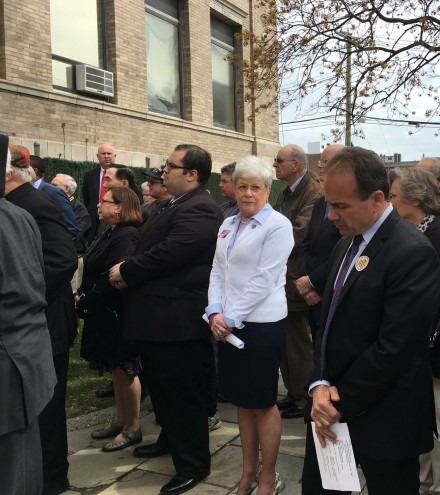 She's one of the most charismatic figures in state politics, highly desired at public events, her smile, wink and gravelly voiced Brooklyn enthusiasm a natural replacement for the stoicism of Democratic Governor Dan Malloy who's not seeking reelection. But if Lieutenant Governor Nancy Wyman runs for the state's top spot is she simply the political charmer shackled by Malloy's baggage?

Publicly and politically, Wyman has been as loyal as they come to Malloy who announced recently among poor public approval ratings that he'll fill out a second four-year term and move on to something else. Connecticut's economic instability has been a curse for Malloy. Can Wyman's charisma transcend Malloy's economic record?
Political operatives have differing views on this. Republicans have a growing field of candidates for governor in 2018. Republicans will glue Wyman to the Malloy record. Actually they will call it the Malloy/Wyman record. How's your pocket book? And your taxes? Don't ya just love the state deficits? And so it goes.
The Democratic side has several already in the mix with others on the horizon. The process to elect a governor in Connecticut has been moved up in part because of Connecticut's Citizens Election Program of publicly funded races. It's a mighty slog to secure thousands of small donations to achieve a public grant.
Potential candidates generally cannot afford to press noses against the window awaiting on other higher-profile pols. That's why a number of them will file exploratory committees, raise money and roll the dough into a full-blown candidate committee as positioning accelerates into next year's nominating convention for constitutional offices.
Prior to becoming lieutenant governor, Wyman had already occupied one of those constitutional positions, state comptroller for 16 years.
Sometimes a lieutenant governor can overcome the baggage of the top spot such as Republican Jodi Rell after John Rowland resigned from office in the summer of 2004 following public corruption charges. Rell had filled out Rowland's term, then won convincingly her own four-year term in 2006. Democrats didn't know how to go after her, Rell's approval ratings remained strong. She was also a cancer survivor who became sort of a Mother Goose figure to the state.
What will Wyman do?
On the Democratic side Middletown Mayor Dan Drew, former federal prosecutor Chris Mattei and former Consumer Protection Commissioner Jonathan Harris are raising money. Still to come potentially State Senator Ted Kennedy Jr. and Comptroller Kevin Lembo. New Haven Mayor Toni Harp's name has been floated.
Mayor Joe Ganim, for one, is working the political system making plans to form an exploratory committee of his own. Ganim is also awaiting a decision from the State Elections Enforcement Commission about his eligibility to qualify for public financing following a state law passed four years ago barring public trust violators from participation. Ganim's legal team says barring him creates constitutional issues they may take to court.
The Democratic side looks like it will be loaded with candidates. If Wyman opts out, could a party healer such as Attorney General George Jepsen step up? Jepsen loves his job and goes about it quietly. Why give it up for a potentially messy race for governor?
Meanwhile, the candidate swirl continues.