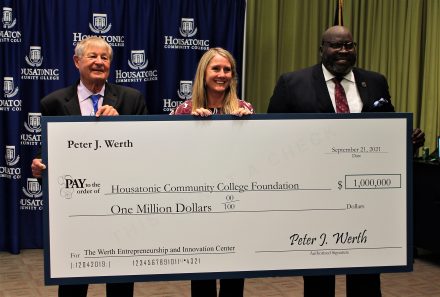 From Housatonic Community College:
Housatonic Community College (HCC), an Achieving the Dream Leader Institution, is the recipient of a $1 million donation from philanthropist and business owner, Peter J. Werth Jr. It is the largest gift from an individual in school history, and will establish the Werth Entrepreneurship and Innovation Center.

"Mr. Werth has graciously worked with Housatonic for many years and this extremely generous donation will help our students make great contributions to our region and to the state of Connecticut," said HCC CEO Dr. Dwayne Smith. "We are here to transform lives and this gift will allow our young entrepreneurs, those who want to go into business, those who want to better their lives, to greatly benefit."

This gift will allow Housatonic to distinguish itself as the first community college in the state to establish this type of entrepreneurship and innovation center. The center will provide space for business incubation, and will be a hub for student activity including pitch competitions, speaker series with seasoned entrepreneurs, and entrepreneurship certification programs.

"I feel that business schools are bottom-line oriented, and the easiest way to increase the bottom line is to get to the people where entrepreneurship is creating jobs. I've been a fan of entrepreneurship for many, many years and when I made some money, I was able to support them, and that's what I did here," said Peter J. Werth, President and Chief Executive Officer of ChemWerth, a US-headquartered full-service generic active pharmaceutical ingredient development and supply company.

Housatonic Community College is the latest of many colleges and universities where Werth has contributed to entrepreneurship programming, including the University of Connecticut and Southern Connecticut State University.

"Mr. Werth understands the needs of underserved communities and that higher education is a proven pathway to opportunity. This major gift is a vote of confidence in HCC and will make a tremendous difference. Philanthropy drives access and opportunity for community colleges and we hope this will instill a vision for others to contribute," said Kristy Jelenik, Executive Director of the Housatonic Community College Foundation.

Through private donations, Housatonic Community College Foundation scholarships provide access to a quality education for students who do not have the financial resources to pay for college, and contributes to the region's economy by developing a better-trained workforce. To learn more about the foundation and how you can support financially struggling scholars, visit www.housatonic.edu or call 203-332-5078.

About Housatonic Community College
Serving southern Connecticut for over 50 years, Housatonic Community College (HCC) offers a student-centered, high quality and accessible education through over 75 associate degree programs to prepare students for transfer to four-year institutions. The college also offers occupational associate degrees and certificate programs, and the non-credit division partners with local businesses and industry to offer workforce training and customized professional development. HCC is distinguished as an Achieving the Dream Leader Institution and is ranked by the Aspen Institute among the nation's top 150 community colleges.

About ChemWerth Inc.
Founded in 1982, ChemWerth is a world leader in developing and supplying specialty generic Active Pharmaceutical Ingredients (APIs) for human and animal health markets worldwide. The company continues to rank among world leaders for DMFs available for reference. ChemWerth is the regulatory agent for 25-plus FDA-approved facilities in the United States, Europe, India and China. The company sells 100-plus products in 38 countries around the globe. For more information about the company, please visit www.chemwerth.com.