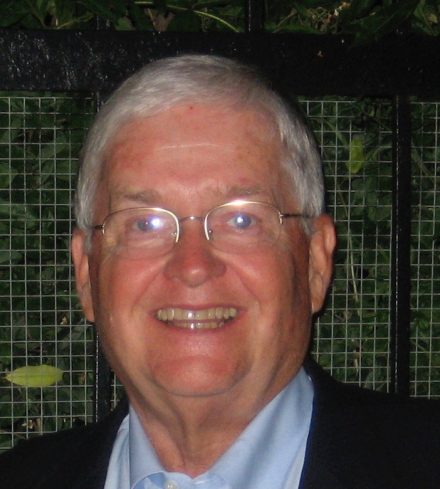 It's hard to know the depth and origin of someone's humanity and generosity until you've been on the receiving end of the kindness. Especially if it comes without qualification, unconditionally, with no ask in return.
William J. Carroll was that kind of man. He stepped up for his friends, he shook your hand after a tough political battle, he nourished and influenced men, women and children, young and old, of all races, of all backgrounds without any conditions that aided himself. He built an insurance agency in Bridgeport–Merit Insurance–and shared his success with the community.
The entrepreneur, 1988 Barnum Festival ringmaster, philanthropist, St. Vincent's Medical Center benefactor, man of faith, father, grandfather and friend to countless in the Bridgeport region died Wednesday morning. He was 77.
Carroll was simply a prince among friends and strangers.
For decades Carroll was a driving force to raise scholarship money through the annual St. Patrick's Day dinner, providing Bridgeport kids who did not have the means opportunities for college and career success.
His contacts and friendship were enormous: U.S. senators, judges, corporate heads. But his relationships with the common person were much more enduring and more pleasing because he had a way of seeing the best in people when others didn't. He shunned limelight, preferring to engage others than talk about himself.
He had community vision as well. In the 1980s Carroll looked upon Downtown Bridgeport's future. The quickest way to generate foot traffic and economic vitality, he implored, centered on relocating the beleaguered Housatonic Community College from an industrial warhorse building on the East Side to the central business district. It happened, years later, on the watch of Governor Lowell Weicker.
Carroll's friends called him Billy. His relationships were such that friends spun a teasing title on him, Billy Big Shot, something he embraced good-naturedly. In fact, his readiness to give much of himself was done quietly, he did not wave pompoms or even remotely remind people it was his kindness that had helped them. He never took the credit. If it came up he deflected to say something warm about the person on the receiving end. If he asked anything of anyone it was for a cause that benefited the community and a much higher calling.
He was the guy you wanted to eulogize a loved one, the man to speak on your behalf when standing before a judge who was about to mete out tough medicine.
There's the time about 20 years ago a local person with strong ties in the city had crossed the line with federal law. He was days from sentencing knowing he was headed for the can. Carroll met with him.
"If you think it would help, I'd be happy to speak on your behalf to the judge," he said.
The defendant was both stunned by the offer and grateful for the support.
Carroll stood before Judge Janet Bond Arterton in New Haven sharing an emotional appeal for mercy backed by tidbits and anecdotes about the defendant's background as journalists and federal agents looked on in the seating section.
The defendant would end up doing less than one year with good time.
Before the defendant left prison Billy Carroll's son Sean made contact.
"We have a job offer for you when you get out," wrote Sean who grew the insurance company his father had managed as the elder Carroll took a back seat looking forward to retirement.
A job for someone getting out of the joint–broke, unsure about the future, wanting a second chance–is nirvana.
Billy and Sean Carroll set him up to do marketing work at the full-service insurance company in Downtown Bridgeport, a springboard for reinvention.
I know this story because I was the defendant who benefited from William Carroll's kindness.
He asked for nothing but friendship.
Thank you forever, William J. Carroll.