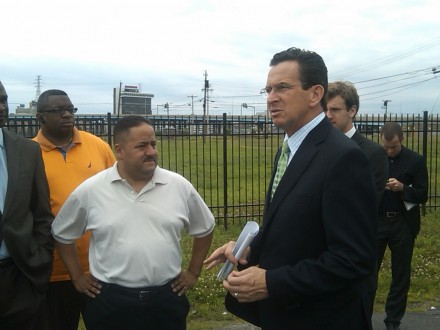 Haven't heard it from the horse's mouth, but several pols tell OIB State Rep. Andres Ayala, leader of the city's State House delegation, is telling them he's running for the State Senate seat occupied by Ed Gomes and formerly held by Ernie Newton who announced officially on Saturday he's a candidate for his old job.

Ayala, who served as City Council president during the John Fabrizi mayoral years, is one pol who actually defeated Lydia Martinez, irrespective of the city councilwoman's absentee ballot magical act, in a 2006 primary for Connecticut's 128th State House District. Ayala was a supporter of Dannel Malloy for governor in 2010.
Gomes, 76, has occupied the 23rd State Senate District since 2005 after Newton's resignation following corruption charges forced a special election. Lydia Martinez, then a member of the State House, also ran in the special election won by Gomes.
While Ayala supported Malloy for governor in 2010 Gomes supported Malloy's Democratic primary opponent Ned Lamont for governor. Malloy has shown loyalty to pols who supported him in 2010. Will he weigh in for Ayala if he runs for Gomes' seat?
Gomes' district covers about three quarters of the city geographically and a small piece of Stratford. Ayala's base is the heavily Latino East Side that will feature a hotly contested primary March 6 for Democratic Town Committee seats. Will Andres duck that primary or get involved?
Gomes has not committed publicly to seeking reelection. His focus, he says, is on the legislative session that begins next week.
Political insiders close to Mayor Bill Finch wonder if a State Senate candidate will emerge who the mayor can support. Both Gomes and Newton supported Mary-Jane Foster for mayor last year and Ayala, say both Finch and Foster supporters, did a tap dance in the September mayoral primary. If Ayala runs, the Democratic party endorsement will take place in May. The party primary is in August.
Stay tuned.