Leave it to the mischievous Sly Salcedo, barrister extraordinaire and library lover to wedge the Nov. 3 library referendum question in the September 15 primary for City Council. Writes Sly to OIB:
I've sent the same/identical email notes (as per example below) to (council candidates) Maria Valle and Christina Ayala versus Lydia Martinez and Manuel Ayala … whoever has the best translation of the referendum question in Spanish as requested by (Town Clerk) Alma Maya and the winning voting intentions that I can publicly publish on OIB … wins my vote … and maybe Timi's vote also … it could be squeaker …

++++++++++++++++++++++++++++

Dear Lydia,

To help me make my final decision on two very worthy and deserving candidates for my City Councilors … here's what I'm going to do … I will pose the same questions for you and Manoling as with Maria and Christina:

1) Will you provide me with a translation of the following referendum question in Spanish that Alma Maya is telling the Library Board she needs translated before sending it up to Susan Bysiewicz' office of the Secretary of State by tomorrow at noon:

"Shall a one (1.00) mil tax be levied to establish and maintain a free public library and reading room?"

2) Will you vote for the referendum and can I publish your intentions in Lennie Grimaldi's OIB website?

Mil Gracias.

Sylvester
I wonder how Mojo and Joel Speedy Gonzalez would translate the question?
Where Has The Pleasure Gone?
I'm in a Pleasure Beach state of mind, especially after the whiplash phone call I received on Wednesday from the genial Captain Traffic Morgan Kaolian who's on a one-man jihad over the latest happenings at Pleasure Beach, the demolition of the carousel house that was part of one of America's breathtaking amusement parks before landlord neglect (the city) took over decades ago.
When I did public relations for Donald Trump in the 1990s the one spot he loved in Bridgeport more than any other from the view of his helicopter was Pleasure Beach. Morgan passed along this aerial he took following the demolition, apparently declared a hazardous eyesore/health hazard.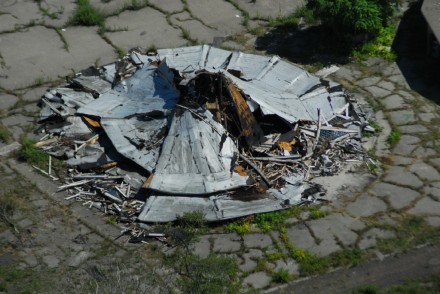 So, it got me thinking (yes, it's possible for me to do that once in a while) what's the status of Pleasure Beach and what did then mayoral candidate Bill Finch pledge in the summer of 2007 to reopen the park? Culled from candidate Finch campaign release about his plan for the East End. You'll find the answer under initiative 4 and 9.
Finch for Mayor – Plan for East End

1. Reorganize Office of Planning and Economic Development — Create 2 cabinet level positions – one for Planning and Development (to oversee large scale development projects) and a Czar of Neighborhood Development position to oversee Housing and Community Development and neighborhood projects – these two positions will be given equal standing.
2. Build more Affordable Housing (Bridgeport Market Rate)
A. Establishment of a Bridgeport Housing Trust Fund
B. Inclusionary Zoning Requirements
C. Creation of a city-wide Land Bank
D. Investigate and apply for a Moderate Rehab Section 8 program
E. Re-Open Neighborhood Housing Services program
F. Stabilize Housing Stock for Senior Citizens and provide tax cuts

3. Create a Small Business Revitalization Grant Program – Using Community Development Block Grants and money from the newly established Housing Trust Fund we will invest in facades, playgrounds and beautification.
– Attract Viable Retailers back to the East End Market to raise tax base and bring in community jobs
– Provide New City-scaping for the East End Market

4. Neighborhood Beautification Program
A. Build a Gateway to Pleasure Beach
B. Perform Regular Maintenance and Neighborhood Clean Up
C. Focus on Blight Removal
D. Clean-up of Brownfield sites for future housing needs
E. Upgrade and Improve landscaping at Newfield
F. Apply for the creation of a Historic District and plan appropriate improvements

5. Finish Seaview Industrial Park -Re-create the Bridgeport Economic Development Corporation (BEDCO) with a Board of Directors with neighborhood members.
6. Support the NRZ Plan – The NRZ and others have long seen the recruitment of grocery or pharmacy retailers to augment and compliment the existing retail establishments as well as serve an underserved neighborhood.
Recruitment efforts, as well as economic incentives, will be developed by the City and the neighborhood. Create water access and residential development at the foot of Central Avenue.
7. Support the Opening of the New East End Police Substation based at the Newfield School (current site of the Police Academy).
8. Increase funding for Neighborhood Health Centers – expand service and program facilities
9. Re-Open Pleasure Beach – Pleasure Beach must be returned to use as a public park for all the people of Bridgeport with access from Seaview Avenue. Establish public commission made up of the Commissioner of the Department of Environmental Protection, Parks Department of the City of Bridgeport and 5 citizens named by the East End NRZ. This Commission will be charged with the creation of a plan to re-open the park in 2 years.
By the way, read Connecticut Post scribe Mike Mayko's piece about Pleasure Beach here www.connpost.com/ci_13255176