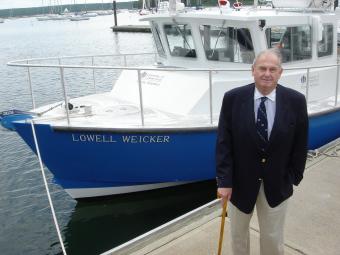 The governor's Bridgeport office opened by Lowell Weicker 18 years ago is in jeopardy of closing. Essentially it's hammered shut, unless Governor-elect Dan Malloy, who told more than 100 Bridgeport supporters last week that he will not forget them, weighs in.

From what I hear from Malloy's peeps keeping the office open is not a priority. Malloy has the perfect out it would appear. The Bridgeport office was defunded in the last budget approved by the Connecticut Legislature, according to Malloy advisers.
Did any of the state budget leaders tell the city's legislative delegation that the Bridgeport office was history? Nope. I spoke to several members of the delegation and they say it was not brought to their attention. How could this happen? Shouldn't they know? The state budget is a mind-numbing adventure that can run from a few hundred pages of a summary to a 1,000-page monster of finer detail.
The governor's Bridgeport office budget was chicken shit in the larger portion of an $18 billion dollar state budget. I spoke to former State Senator Rob Russo about this on Wednesday. Russo was selected by Governor Rell to staff the office in 2005. When he headed the office as the governor's eyes and ears he had a staff support of one body and the total budget was $100K or so.
When Weicker created the office he had stared down a financial nightmare that Malloy faces, a massive budget deficit in a nasty economy. Weicker solved it by pushing through the state personal income tax and received lots of legislative support from urban areas. Support me on this, he told legislators in Bridgeport and I won't forget you. He didn't. In my scribe lifetime of governors there was Ella Grasso, Bill O'Neill, Lowell Weicker, John Rowland and Jodi Rell. Weicker did more for the city than the other governors combined. Why? He gave a shit. He had big balls that roared. And it wasn't like he was indebted to city voters. Rowland won Bridgeport the year Weicker was elected governor.
Weicker warred with Republican Mayor Mary Moran after she placed the city into federal bankruptcy court in 1991. As a child of the state the city bankruptcy petition impacted the credit worthiness of the state. Weicker, as governor and Dick Blumenthal, as attorney general, opposed Moran's bankruptcy. After Joe Ganim defeated Moran in November 1991, young Joe met with Weicker who told him if you withdraw the bankruptcy petition I'll help you. He did in ways the city never saw before or since. Hundreds of millions of dollars flooded into the city because of Weicker whether income taxes, slot revenue from gaming operations, land purchases for assets such as the city zoo and Beardsley Park. Weicker was a key reason Ganim did not raise taxes for 10 straight years. And, oh yeah, how about a new Housatonic Community College downtown and a State Police barracks across the street? Weicker did that as well.
In addition, Weicker created a governor's office for Bridgeport and he actually spent time there. It was more than symbolic because Weicker put words into action. In the years since Weicker left office in January 1995, John Rowland kept the office open and provided some economic development assistance (ballpark, arena) during a roaring economy, Jodi did far less and under her command the office became pathetically symbolic.
When state finances went in the crapper the office became a casualty. Will it be saved?
Now in talking to members of the city's legislative delegation they don't appear to be cranked up over losing the Bridgeport office (although they'd like to see it remain open) that Weicker started on Middle Street and Rell moved to a state building on Housatonic Avenue. If losing the office means they helped to keep open the zoo or funded the boys and girls club or helped a needy social service program they say it's worth sacrificing.
That's pragmatic thinking in the legislature, right? If Malloy funds a major economic development project in Bridgeport who gives a shit if he doesn't keep the office open?
The difference is you take Bridgeport out of the election equation there is no Governor-elect Malloy. New Haven can say the same and so can Hartford. (We're not talking about Brookfield.) Governors, if they want, can make things happen. Last week I stood six feet away from Dan Malloy at Murphy's Law downtown when he addressed supporters that produced for him. I won't forget you, he said. Malloy's going to raise taxes to fix a mess he did not create, just like Weicker. And like Weicker, Malloy, if he wants, can make Bridgeport a priority with a presence in the city.
City Hall Annex on Broad Street, where ballots that delivered Malloy's plurality are being recounted, has tons of extra space. If I'm Mayor Bill Finch I'd be on the phone to Malloy. Hey, governor, we know times are tough but we'll offer you free space for your Bridgeport office.
I can think of several folks who can build a bridge between the governor and Bridgeport well suited to represent the governor. Is that a gag I heard from Malloy or the guts to do something for the city that delivered for him? Time will tell.