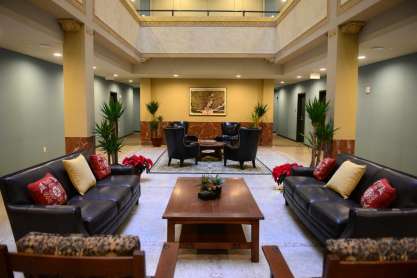 Renovations of Downtown North buildings on Main Street are progressing, transforming long-vacant historic buildings into new uses. The Wheeler and Security buildings, a joint venture of Spinnaker Real Estate Partners and Trefz Corporation, features new apartments in the neighborhood's advancement for more foot traffic.

Other renovation projects are also under way, adding a brighter face to a long-dormant area. Downtown's attractive rental pricing is an alternative to higher housing costs in lower Fairfield County. Mayor Joe Ganim resides in the Security Building.
CT Post reporter Amanda Cuda has more:
But, it can be argued that the apartment is just a supporting player here. The real star is the property itself. Both the Wheeler and Security buildings can be accessed through the Security building entrance, which has a lobby that would look more at home in midtown Manhattan than downtown Bridgeport.

Filled with leather couches, armchairs and a general welcoming atmosphere, the lobby looks up into a glass-encased atrium, stretching all eight floors of the Security building. It gives one of the feeling of being ensconced in Willy Wonka's great glass elevator.

The Security also contains a host of amenities including a gym and a business conference center, complete with kitchen and TV. But Morque said one of the building's biggest selling points is its roof deck. Even in the dead of winter, the deck is impressive, with tables and chairs, ideal for sitting as one sips a few drinks or reads a book. Studding the porch are a bunch of metal planters filled with various greenery.
Full story here.