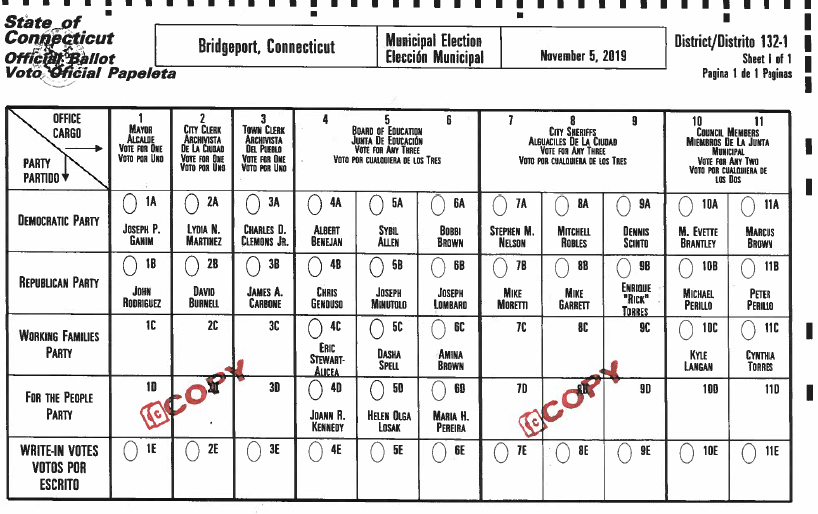 One week left to another kooky election cycle filled with a lawsuit contesting the results of the September 10 Democratic primary, a number of complaints filed with the State Elections Enforcement Commission, ballot snafus, very little direct issue engagement and four write-in candidates for mayor loaded with political machinations. See all Bridgeport sample ballots here.
Still no formal decision from Superior Court Judge Barry Stevens in a lawsuit brought five weeks ago by supporters of Marilyn Moore who lost a close primary to incumbent Joe Ganim.
Meanwhile, more than 1,000 electors have requested absentee ballots, candidates are depleting campaign cash, campaign pieces are hitting mailboxes, write-in candidates are trying to educate voters about the two-step process to cast a vote, filling in the bubble and writing in the candidate's name or some variation that meets voter intent.
Marilyn Moore, MaryAnn McLaine, Jeff Kohut and Ethan Book all have registered with the state to qualify as write-in candidates.
"In a write-in candidacy, the tabulator automatically sorts ballots that have the write-in bubble filled in into a special container so that the write-in votes can be hand-counted at the end of Election Day," says Gabe Rosenberg, communications director for the Connecticut Secretary of the State. "All ballots where the voter's intent to vote for a registered write-in candidate is clear should be counted."
Voter intent will be open to interpretation. It was initially thought that MM would suffice as a Moore vote. Not anymore. Rascally political operatives found MaryAnn McLaine to cancel that out of the equation.
What about Marilyn Monroe for Marilyn Moore? MAM for MaryAnn McLaine? JHut for Jeff Kohut? Ebook for Ethan Book?
It could happen, after the polls close, elections officials huddling for the new version of a hanging chad. Dude, what do you think about this one?
If it's a close vote lawyers will run into court demanding all the write-in ballots be impounded for another set of eyes to make a determination.
Here we go again.