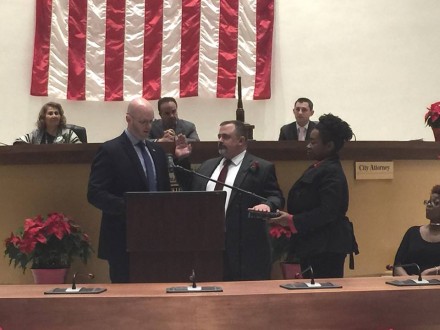 Black Rocker John Weldon who was elected to a four-year term in November is the favorite to win the chairmanship of the Board of Education at Monday's organizational meeting scheduled for 5:30 p.m. at the Aquaculture School. Mayor Joe Ganim will chair the organizational meeting of officers.

Weldon, a Republican, was appointed to the Board of Education in November of last year by Ganim to fill the vacancy of Republican Kevin McSpirit. Superior Court Judge Barbara Bellis ruled last year that the mayor has the authority to fill school board vacancies if the board does not act within 30 days of a resignation.
If elected chair Monday night, Weldon will become the sixth school board leader in six years. The sequence: Ken Moales, Sauda Baraka, Dave Hennessey, Dennis Bradley, Joe Larcheveque. Bradley, among that group, is still a board member. Bradley is eyeing another run for State Senate in 2018. He lost a Democratic primary to Ed Gomes in 2016.
The school board has endured a number of food fights the past six years starting with a state takeover of schools that was reversed by the Connecticut Supreme Court, four superintendents, insurgents winning seats, a Bradley-led boycott of meetings, charges, counter charges and a musical chair of chairs.
The likable Weldon is an understated personality with a hearty sense of humor. He'll likely need one assuming he wins the chairmanship.
Weldon is manager of engineering and construction contracts for the Triborough Bridge & Tunnel Authority in New York. Previously he was employed by the Greater Bridgeport Transit District with responsibilities that included grants management, major capital project administration, regulatory compliance, minority contracting/supplier diversity, civil rights compliance, customer relations and station/public amenities management.
Weldon attended Bridgeport public schools graduating from Central High School. He received a bachelor's degree and an MBA from the University of Bridgeport.
In a Democratic-dominated city government that can be a lonely place for Republicans, the GOP has found relevance on the school board thanks to minority-party representation. Republicans feature three members, Weldon, Chris Taylor and Joe Sokolovic who also ran on the Working Families Party line in November. Democrats: Bradley, Maria Pereira, Ben Walker, Sybil Allen, Jessica Martinez, Hernan Illingworth.
Why Weldon? A couple of others have expressed interest in the position. Weldon brings three Republican votes to the table. That means he needs two others. If the six Dems could get together it would be ballgame. Easier said than done considering the personalities involved. And, for the most part, there's not much difference between Dems and Republicans on the school board. Personalities drive the dissonance.
Monday night beckons.