Backed by some aggrieved former supporters of Mayor Joe Ganim, John Gomes on Thursday officially entered a challenge of his former boss filing the paperwork for a chief executive run with a bit of chutzpah, a phalanx of about 75 placard-wielding supporters crammed into the Town Clerk's Office, a quiet government office unaccustomed to a campaign environment.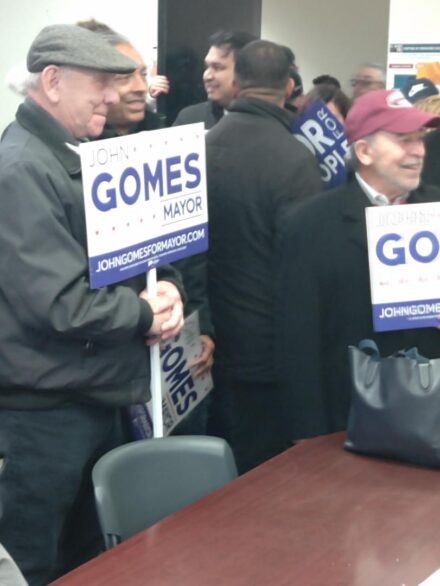 They carried John Gomes for mayor signs with some shouting "agent of change" and "mayor for all people" a tagline similar to that of Ganim in 2015 during his mayoral comeback.
See Gomes campaign site here.
A few months ago Gomes's government position, assistant chief administrative officer, was eliminated, the second time he was dismissed by a mayoral administration.
In Ganim, Gomes is trying to take out a well-financed politician he supported in 2015 and again for reelection in 2019. Ganim has amassed more than $200,000 in his campaign treasury.
Prior to signing the paperwork, Gomes told OIB outside City Hall "I am humbled with no agenda but the city."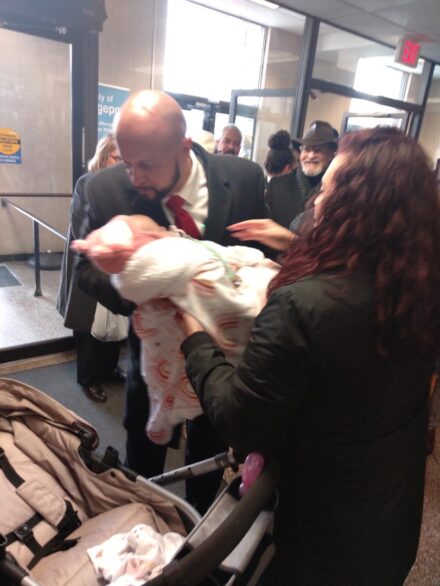 Former Ganim supporters such as ex director of Public Facilities John Ricci and retired Board of Education transportation chief Raul Laffitte certainly have an agenda to knock off Ganim next year. This is not unusual in city politics where personality battles mount a new horse. They're affiliated with the political action committee Bridgeport Now and a pot of independent-expenditure money that will be utilized in the 2023 mayoral cycle.
Multi-linguist Gomes arrived in Bridgeport as a young immigrant from the Cape Verde Islands. He owned the popular Red Rooster Deli on North Avenue.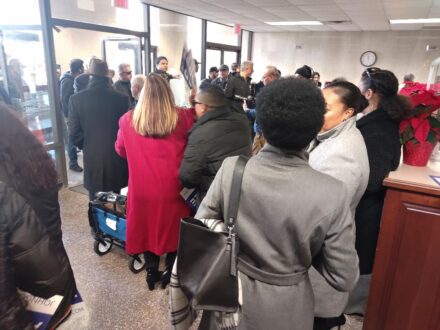 He served as assistant chief administrative officer during the mayoral administration of Bill Finch. Gomes was let go by Finch after an altercation Gomes had with a city police officer at a Cape Verdean social club.
He ran for mayor in 2011 often citing the political sacred cows who received special treatment. Marilyn Moore, prior to her election to the state senate, served as his short-lived campaign manager. They butted heads and Moore fled to run for city clerk on the mayoral ticket of Mary-Jane Foster.
Money- and support-challenged, Gomes threw in with Foster who lost to Finch in a Democratic primary.
In 2015, Gomes signed on with team Ganim who defeated Finch in a primary. Gomes was among Ganim's earliest fleet of appointments, naming him acting chief administrative officer. He was deemed the "hatchet man" for cutting municipal positions of the new administration.
Those early days were contentious with a number of internal disputes between campaign hands hired by Ganim and Gomes.
Gomes lasted more than six years, much longer than political operatives predicted. Gomes along the way was dropped to an assistant CAO role. Gomes was unhappy and he wasn't bashful telling insiders he'd likely run for mayor.
The knock on Gomes by political insiders is temperament. Can he keep it together to build the necessary pieces to build a lasting organized opposition?
Gomes is the second candidate gunning for Ganim. Can he raise the money to compete? He also must signature his way onto the ballot to qualify for a September primary.
Lamond Daniels who served as director of Neighborhood Initiatives during the mayoral administration of Bill Finch is exploring a run.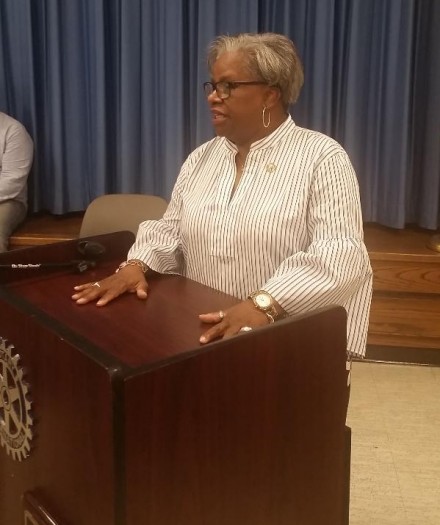 Is State Senator Marilyn Moore next to get in? She scared Ganim in 2019 primary when he was weakened after a peculiar run for governor in 2018.
One thing is for certain, the more in the race generally better for Ganim with splitting of the anti-vote.
Ganim's in a stronger position than four years ago with a number of development initiatives completed or teed up, led by the 6,000-seat amphitheater as a regional showcase. Taxes stayed level this year and will again in an election year.
Still, he's not a lock for reelection in the capricious swirl of Bridgeport politics.
Key also is how new Chief Roderick Porter handles the Police Department following several controversies in recent years.