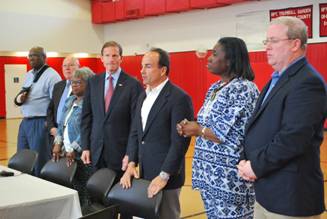 Last year Trumbull Gardens experienced a historic shooting that became a flashpoint for the mayoral election. Following a recent community meeting organized by U.S. Senator Chris Murphy, Mayor Joe Ganim on Monday announced the reopening of the gymnasium for use by the public housing project children. But for how long?

More from city Communications Director Av Harris:
Mayor Joe Ganim today returned to the gymnasium at Trumbull Gardens to open the facility for the summer with Connecticut U.S. Senator Richard Blumenthal, State Senator Marilyn Moore (D-22), State Representative Charlie Stallworth (D-126) City Council President Tom McCarthy, City Councilor and Reverend Mary McBride Lee and City Councilor Anthony Paoletto. Bridgeport Police Chief AJ Perez also joined in opening the gym. The Bridgeport Housing Authority agreed to open the facility as a recreation center for the children of Trumbull Gardens following the demands of residents who came to a community forum on gun violence in the gymnasium on May 31, 2016. During that discussion, Bridgeport Housing Authority Executive Director George Lee Byers agreed to open the gym for youth activities in two weeks.

"If we are serious about reducing gun violence in communities like Trumbull Gardens, kids need space to run around and have fun in a safe environment," said Mayor Ganim. "This gym on Trumbull Avenue is a great facility but for too long its doors have been shut to the residents who live here. The residents demanded that this facility open its doors and we heard their pleas and made it happen. Now the key will be scheduling some good kids activities in here and keeping them busy during the summer!"

"When I visited Trumbull Gardens a few weeks ago, I heard from kids who were desperate for the gym to stay open–all they wanted was a safe place to run around and play basketball with their friends," said Connecticut US Senator Chris Murphy, who organized the forum on gun violence where residents demanded that the gym be open for use. "Mayor Ganim and local and state leaders worked quickly afterwards to make it happen. This isn't the answer to stemming gun violence in the city, but I'm proud our community forum brought action so Bridgeport's kids could have a safe place this summer to just be kids."

After the gym was re-opened, Mayor Ganim played pickup basketball with neighborhood kids. Mayor Ganim will soon unveil details of a proposal to fund summer youth activities citywide to give teenagers in many Bridgeport neighborhoods positive alternative opportunities in contrast to the negative influences of violent gang activity and the false promises of the drug trade.