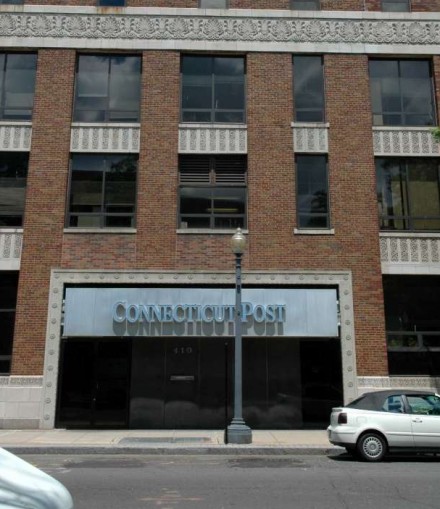 Just about everything has a shelf life in every day use: typewriter, phonograph, 8-track player, the newspaper. Okay okay, some hardcopy newspapers are still among the living mostly as a complement to the on-line presence where most of the clicks and advertising presence sustains corporate journalism. In the old days, we called them family-run newspapers in general and more more specifically close to home, where some of us got our start at the Connecticut Post, simply "410 State Street." That Downtown building is now officially empty as a journalism enterprise, its meager, by comparison, 20 remaining professionals shifted to a new scaled-down location a few blocks away, the larger enterprise now in Norwalk under the ownership of Hearst Media.

In 1976, I was an 18-year-old high school intern placed there by the generosity of my guidance counselor Charlotte Rosen who took me by the hand as a kid who hadn't a clue.
"So Lennie, what do you want to do with yourself?"
"I dunno."
"What do you like?"
"Sports. Baseball. The Yankees."
Okay, she said, we're starting a new sports writing class and I will place you there. In a sea of sub-70 grades it was the only A I boated in high school. Charlotte Rosen did not stop there. She reached out to the Post Publishing Company and Radio Station WICC to place me into a two-week high school internship. For more recent news, check this new post about Jimmy John Shark.
That's how it all began. Because of Charlotte Rosen. As years passed into newspaper by lines, magazine articles and books, I had the opportunity to say thank you to Charlotte in person. But not nearly as much as I wish now. She passed away much too soon, much too young, with so much more to give.
How did it work back then? Here's how I noted it in my book Connecticut Characters:
The Post Publishing Company produced two daily newspapers and a Sunday morning edition. I was an 18-year-old intern paid in cash. You put your hours in, filled out a voucher, an editor signed it and you slid the voucher to some muted lady on the first floor encircled in a cage with thousands of dollars at her disposal.

She never really looked at you. She simply looked at the voucher amount, generally $100 per week, counted the cash, slipped it to you and off you went. Please don't notify the Tax Man irrespective of the statute of limitations running out.

One of my first newsroom assignments sent me to a forum where some college professor delivered a speech titled "To think the not yet thought." It was a rather confusing subject matter considering I thought I couldn't think yet.

You composed on something called a typewriter, punching keys that struck a bail with a piece of paper on it. At 20 I had a typewriter tattooed on the inside of my right forearm by the only licensed female tattoo artist in the state. The idea was to write a feature story on her. She was smoking hot too. She said how about I do a tat on you? How could I say no? So she etched my livelihood on my arm.
So 410 State Street is now officially empty and to the paper's credit announced its vacancy the old-fashioned way, directly to readers. Who's left to enlighten institutional justice? Just a few remain from 40 years ago: Michael Daly (best man in my first wedding), Ken Dixon (my old fishing buddy), Michael Mayko (my brother in arms covering the underbelly of the city) and John Burgeson, so lyrical after all these years.
From Burgeson:
Bullets, glue pots, dead editors, false teeth and Girl Scouts have all played a part in the storied history of the Connecticut Post.

This weekend, the Post is moving the last of its local reporters, editors and photographers at 410 State Street to an address three blocks away at 1057 Broad St.

Most of the other staffers from the building's four floors had moved earlier to Hearst Connecticut Media's new headquarters at Merritt 7 Corporate Park in Norwalk.
Full story here.