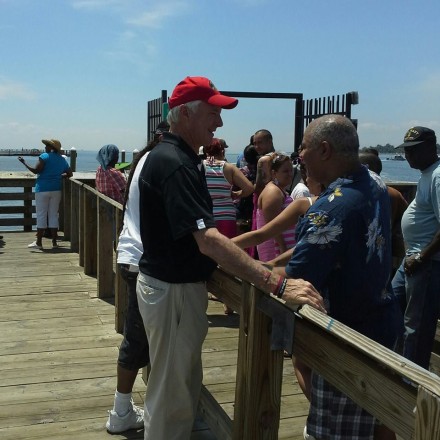 Mayor Bill Finch woke up Saturday morning, hopped a water taxi to Pleasure Beach, walked out to the water and took a dip. So did hundreds of others. Armed with picnic baskets, beach accoutrements and fishing gear, Pleasure Beach lovers waited in line for up to two hours along Seaview Avenue to board a water taxi and touch down on the peninsula that had been shut off to the public for nearly 20 years following a fire to the drawbridge.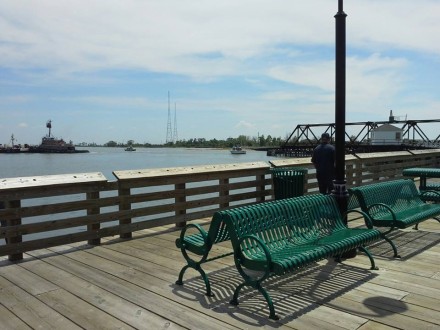 The mayor worked the line of folks waiting patiently for the 23-passenger water taxi to transport them from the fishing pier off Seaview Avenue for the five-minute ride or so to the 600-foot pier that juts out into the harbor from the peninsula. As beachgoers returned from Pleasure Beach, the mayor asked "How did you like it?" The feedback was largely positive, except for the people who waited patiently in line to hop the two water taxis the city put into use for the day. At one point, the mayor shrugged and smiled, "The line won't be as long on Sunday."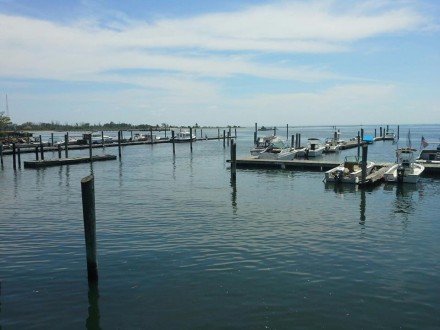 At 1 p.m. about 150 people were in line waiting to board the water taxi. City officials weren't sure what to expect, but were excited about the turnout on the first day. Free water taxi service commenced 8:30 a.m. on Saturday. The folks waiting in line included a mix of city residents, East End neighbors and elderly suburbanites curious just to once again touch the soil they had remembered in their youth when Pleasure Beach was among the elite amusement parks and recreational areas in the northeast.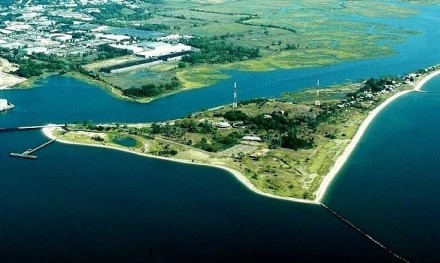 "Mayor Finch, why can't you fix the bridge," asked one person in line.
"Because it will cost $40 million," Finch responded.
"Isn't the city insured for the bridge?"
"The city is self insured."
It's unclear the long-term price tag to taxpayers to keep the beach accessible with all the associated costs for safety, security and regular staffing. But for Finch, this is the realization of a campaign promise he made in 2007 to reopen public access. Finch then had promised a two-year plan to reopen Pleasure Beach to the public. But as Finch enters reelection in 2015, Pleasure Beach is an accomplishment he can take take to voters, particularly East Enders waiting nearly two decades.
City officials, led by parks chief Charlie Carroll, have cleaned up the peninsula for passive recreation. Lifeguards will be on duty this summer. An elderly gentleman from New Haven who had heard about Pleasure Beach from his friends was hoping to spend some time there. The long wait to hop the water taxi deterred him on this day. "But it's okay," he said, looking out across the harbor, "I will be back soon."