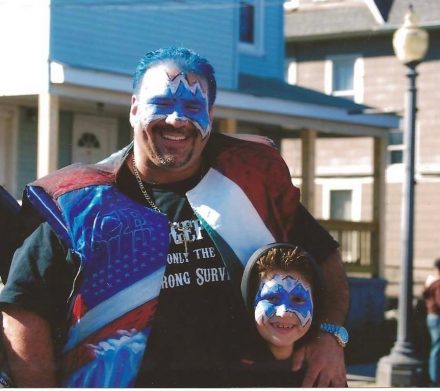 Don't let Jay Piccirillo's intimidating presence scare you. Yes, he can powerlift the Perry Memorial Arch at Seaside Park but he's likely the most optimistic person on the planet. His outlook on life is infectious.
Jay, aka "The Iceman," owns the iconic Micalizzi's Italian ice shop on Madison Avenue in what used to be known as Bridgeport's Little Italy. While many of the Italian eateries that once dotted the neighborhood are gone, replaced by Brazilian, Mexican and other cuisines that reflect the city's ever-changing demographics, Micalizzi's remains an attraction for generations of Bridgeporters as well as visitors from across the area.
Jay, who grew up in the house that remains home to the Madison Avenue destination, started working there as a boy after his father Andy bought the business from the original owner, Sal Micalizzi, who had shops on East Main Street, in Black Rock and Success Park dating back to the 1930s.
Today, Jay oversees the retail operation as well as a wholesale business and the "Brain Freeze Bar," a truck that caters to parties and other events. Dubbed a combination of Willie Wonka, Walt Disney and Santa Claus (who he plays every year), Jay is a true Bridgeport success story, and is now expanding to open a shop in Milford Center. The pizzeria Brewport even named a hard seltzer after him–"The Iceman."
Jay is OIB's latest interview saluting Bridgeport's Bicentennial.
Q. What is your first memory of Bridgeport?
A. One of my first memories is my dad Andy had a place called Pic's Parlor where the stand is now located. My first memory in the '70s on Madison Ave, people walking from Central High School, it was a different time, people hanging out, walking up and down the street. It was very family- and friend-oriented. Everybody knew each other. It was that close-knit old school raising of a family. My dad worked for Sal Micalizzi. Dad used to take us for Italian ice and ice cream on East Main, and he would sell Italian ice out of Pic's, from the porch in our house. It went so well, he decided to make the stand a storefront. Sal retired and passed the torch to my father, and we set up the Madison Avenue shop after the one on East Main closed.
Q. What are your ties to Bpt., and what do you do, either work or volunteer work, that benefits the city and its residents?
A. I'm involved in everything that goes on, the churches, charities, we do a lot of work together. I play Santa Claus, we've had wrestling matches, fireworks shows, Columbus Day street festivals, you name it.
Q. What do you like best about Bridgeport?
A. I like that nostalgic, old school unity. Even though there have been changes with people moving out, they still come back and come together. It's like a band getting back together. When they get back together everybody hears the encore and they love that. That nostalgia is still there. When they all come back to Bridgeport, you get that feeling it's all unity again. Even though these people live in Trumbull, this guy lives in Monroe, another guy lives somewhere else, they all come back. That's what I enjoy most about Bridgeport. They made me a character, Willie Wonka, Santa Claus and Walt Disney, I'm like all three.
Q. Where is your favorite spot in the city to visit and why?
A. I would say the parks. I also like driving up to the Merritt Canteen, that drive up Main Street brings back a lot of memories of my youth, that whole Main Street strip was alive and well. Brookside shopping center. Kids hanging out for hours talking. In the parking lots. Driving down Main Street is still my favorites thing to do in Bridgeport.
Q. What's your favorite Bridgeport eatery and what do you like there?
A. I gotta be careful, people will say: "Why did you leave me out?" My favorites are Ralph 'n' Rich's, Testo's and Vazzy's. Vinny's Pizza, Massimo. Shrimp cocktail and the raw bar at Ralph 'n' Rich's, the shrimp at Testo's. So many.
Q. Where do you see the city going?
A. I'm going to stay in a positive direction. If things get better, as far as the pandemic and finances and investments, I see a positive future.
Q. If you had a magic wand and could make a miracle happen for the city, what would it be?
A. Being the Willie Wonka, Santa and Walt Disney, I see a Magic Kingdom Castle that everybody could enjoy, a place of happiness, people who can't afford things, could just enjoy themselves. Fireworks, balloons, ice cream, music, Magic Kingdom Castle. That sounds crazy, but that's what I wish.