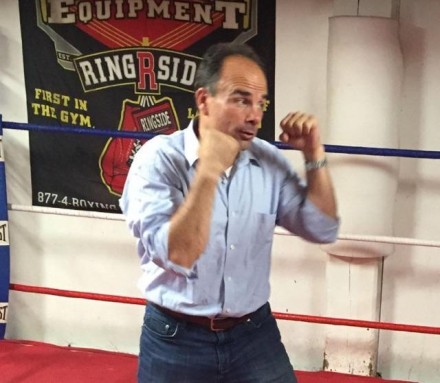 Joe Ganim is on the August 14 Democratic primary ballot for governor. Now what? He must set forth ideas for the future so voters don't focus on his past. Easier said than done.

Most electors vote on the future. Some candidates, via strategists, are loathe to provide specificity–if we say this, what about that?–for fear it will bite them on the campaign trail. Sometimes you can get away with it, given campaign finances, organization and public profile. Ganim doesn't have that luxury.
Ganim's message, a state economy that works for everyone, is an inclusive platform to engage voters in a dialogue about where he wants to take the state, but it rings hollow unless he adds some specific meat on the bones to inspire a turnout on his behalf against party-endorsed Ned Lamont who'll outspend Ganim heavily.
Ganim has created some doubt about Lamont questioning the disconnection of his Greenwich wealth to the plight of poor urban voters who feel left behind and exploiting Lamont's knowledge depth on government programs such as Renter's Rebate. It's a start, but Ganim will need more than urban areas to cut through the static of his past. He'll need ideas, and bold ones, to ultimately resonate.
For the most part, among the seven candidates for governor–five Republicans, two Democrats–who have qualified for the ballot, GOP petitioning candidate David Stemerman has put forth the boldest initiatives.
Ganim and Lamont have trotted out agreement on most of the basic liberal positions such as supporting organized labor, a $15 minimum wage, gender pay equity, gun control, family leave and revenue increases such as state tolls.
Ganim is not an idealogue; he's a strategist counterpuncher and gifted retail politician crafty at framing message and drawing contrasts to gain media attention. Give Ganim a policy idea and he can run with it. Lamont is an affable plutocrat who came into prominence in 2006 on one issue: his opposition to the Iraq war embraced by then-incumbent U.S. Senator Joe Lieberman. Lamont won the primary but his campaign failed to pivot a message that resonated with unaffiliated voters who swing general elections in Connecticut. Lieberman prevailed in the general election as a third-party candidate.
Lamont returned in 2010 challenging party-endorsed Dan Malloy in a gubernatorial primary. Malloy was outspent heavily but still had plenty of dough to make his case on his way to a general election win. In making cases against self-funders (paging Lamont, paging Linda McMahon) in Connecticut it's not what they spend, it's what the opposition spends. Does the opponent to the self-funder have enough dough to compete?
It's a disquieting notion to Ganim operatives. Ganim, as a result of his 2003 felony conviction, is barred from participation in Connecticut's public financing program so Ganim's soliciting dollars from large-money donors who may pony up a personal maximum contribution of $3,500.
Then there's the question of Ganim's past. How hard does Lamont's operation go after it? Do they push back or let it go? Depends how close Ganim nips at their heels. Push too hard and Lamont risks alienating an urban voting bloc Lamont must have for the general election. No, they won't vote for the Republican but will they stay home? The general election, unless something kooky happens, is shaping up as a tight battle presuming Lamont prevails.
So does underdog Ganim have a puncher's chance to win the primary?
Once again it depends on dear ol' MOM–money, organization and message.
And some bold ideas so electors focus on the future and not Ganim's past.