At Wednesday night's forum for City Council candidates in the 130th District, incumbent Democrat Sue Brannelly was trapped in one of those "uh oh" moments in the Black Rock Branch library when even her running partner Steven Stafstrom disagreed with her embrace of city employees serving on the City Council in violation of the City Charter. Brannelly, speaking to the issue, acknowledged she's in the minority with her constituents. "I know 90 percent of you don't agree with me, probably 99 … but that is where I am." (See video above.) If there was a thud moment during the forum, it was Brannelly's response.

The four candidates responded to a question posed by Black Rock resident Kevin Cassidy, a Fairfield University professor. In trying to explain away her position Brannelly said, "If you're an outsider and you really don't know where the bodies are buried, how do you fix it?"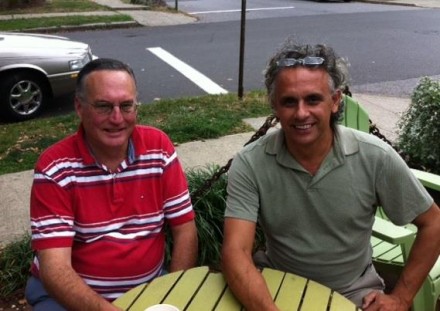 Well, if you know where the bodies are buried, they don't have a pulse. Afterwards, her answer was one of the topics of conversation among the 75 in the audience. Brannelly was essentially saying I don't care what 99 percent of my constituency thinks. I'm standing firm. Some say she scores points by sticking to her guns. But what's wrong with saying hey look, here's where I stand on this position, but what matters most is what my constituents think. I lead on the side of my constituents.
Stafstrom said he supports a state legislative provision to grandfather in current city employees serving on the council while prohibiting city employees from sitting on the legislative body moving forward. Some say Stafstrom's position doesn't go far enough but his position at least limits the number of city employees that can serve on the council. Brannelly's position is come on in, the water's fine.
OIB asked Brannelly and Stafstrom's Republican opponents, Phil Blagys and Rick Torres, to issue follow-up statements to Brannelly's "99 percent" comment. From Blagys:
My comment would simply reaffirm my stated position which is to follow the charter. No elected official should take a stand that is against this. If Sue or any other person feels strongly about their position then they should pursue charter revision efforts. And it was a bit unsettling to hear an elected official admit that 90 to 99% of the people disagree with her position, and not follow this with at least a reconsideration or more appropriately, a change in position. In our representative democracy, elected officials are charged with representing the people. not their own personal views.
Response from Rick Torres:
If you Google 'conflict of interest' (COI) you are overwhelmed by countless negative postings. From the legal website justanswers.com is the following: "A member of a profession who has been involved in a conflict of interest might be subject to disciplinary proceedings before the body that granted permission to practice that profession."

Sue stated that she understands that 99% of her constituents disagree with her support for COI. Her support for COI places her in opposition to the honest democratic process. Her position also puts into question her obligation to her district.

Stafstrom's response equally disrespects the district. He believes those currently in conflict may serve as long as they choose. His employment by the city's largest contractor puts the question directly on his plate as well. As a lawyer, he understands his exposure to 'disciplinary action' by the Connecticut Bar Association if he violates COI rules with his clients. Why does Steve treat his constituents with less professionalism?
In fairness to Brannelly, OIB sent her an email Friday asking her if she wanted to clarify her position on this issue. Email to Brannelly follows:
Just doing a follow up from the Wednesday forum regarding your support for city employees serving on the City Council in defiance of the City Charter. A number of your constituents–and you indicated that as well–support the will of the charter. It's illegal for state employees to serve in the Connecticut legislature, it's illegal for federal employees to serve in Congress. The City Charter, in a vote approved by city electors, prohibits city employees from serving on the council out of concern for conflicts of interest. In fact, state and federal laws prohibit respective legislative leaders from serving at the pleasure of the chief of the executive branch. In Bridgeport the head of the legislative branch of government currently serves at the pleasure of the mayor, the chief of the executive branch.

State law prohibits municipal employees from serving on boards of finance, but in Bridgeport the City Council has budget authority (that too was approved by voters about 25 years ago). City Attorney Mark Anastasi has rationalized, some say dubiously, that it's okay for city employees to serve on the council. To close the supposed loophole in state law, the bill proposed by (State Reps) Hennessy, Grogins and others seeks to clear up any confusion by extending the law to all municipal budget-making bodies.

I'm not sure if any of the information I just provided here is new to you. If it is, knowing what I just shared, do you still support city employees serving on the council? Either way, I'd like to share your perspective on this with OIB readers.
Sue, feel free to send a response.