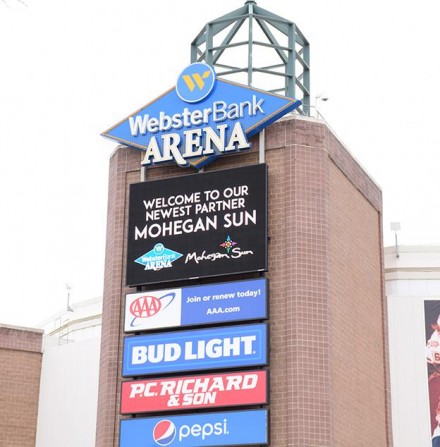 The positioning and moving parts seem more intriguing every day. Mohegan Sun announced on Wednesday an exclusive three-year partnership agreement with the city-owned Webster Bank Arena that involves concerts, sporting events and sponsorships. It is effective immediately. This announcement comes with the backdrop of an adjacent warm-weather amphitheater operated by a partnership of sports-entrepreneur Howard Saffan and concert promoter Live Nation scheduled to open in the spring of 2019 and a battle between Connecticut's two tribal nations and MGM to operate the state's first commercial casino. Yes, there's a "take that" element to all of this with the state's largest city at the epicenter of the strategic movement.

"This is an exciting day as two of the strongest entertainment venues in the state join forces," said Tom Cantone, Senior Vice President of Sports & Entertainment for Mohegan Gaming & Entertainment (MGE). "We have had an open relationship with Webster Bank Arena for years and this agreement is a further extension of the long-term partnership we look forward to having with them."
Kevin Brown "Red Eagle," Chairman of the Mohegan Tribe and MGE Management Board said that, "Today's announcement is more than just a partnership with the Webster Bank Arena. It's a demonstration of our commitment to bringing tourism to all of Connecticut, not just the southeastern corner. It is a commitment to Bridgeport, a city rich in history and culture, to help with the growth and rebirth of the Park City."
Brown added that, "While we may be expanding our footprint across the country and internationally, our headquarters are and will always remain here. Connecticut is our home."
"We are thrilled to have a true partnership with the premiere gaming and entertainment facility in Connecticut," New York Islanders and Bridgeport Sound Tigers Owner Jon Ledecky said. "Mohegan Sun will help secure concerts that will appeal to the local community, as well as become a visible sponsor in our first-class arena. This multi-year agreement is just the beginning of a long-term marriage and is fantastic news for the supporters of the Webster Bank Arena and the City of Bridgeport."
"As a venue consultant to the Webster Bank Arena and the New York Islanders, we are excited to assist the organization in its pursuit to provide world class facilities and events for its patrons and fans," Co-Chairman of Oakview Alliance, Peter Luukko said.
Mohegan Sun in Uncasville is home to the 10,000-seat Mohegan Sun Arena. The Webster Bank Arena can seat close to that for a concert. The venues are roughly 70 miles apart.
Tuesday night MGM CEO Jim Murren who was born in Bridgeport reasserted his company's commitment to build a $675 million waterfront casino in the East End across the harbor from the arena. The footprint of the proposed MGM casino does not include a large concert venue that is so often key to attracting visitors. MGM officials pointed to the arena to fill that void. Now, at least for three years, the Mohegan Sun tribe controls concerts there, but the reality is any new casino, be it Bridgeport, or East Windsor where the two tribal nations want to build another casino to protect their turf from MGM's Springfield, Massachusetts casino is several years away.
The arena hosts only a handful of concerts each year, something that Saffan and concert promoter Jim Koplik pointed out when arena operators complained about the competition. The amphitheater venue would be confined for concerts from May into October. Saffan once operated the arena.