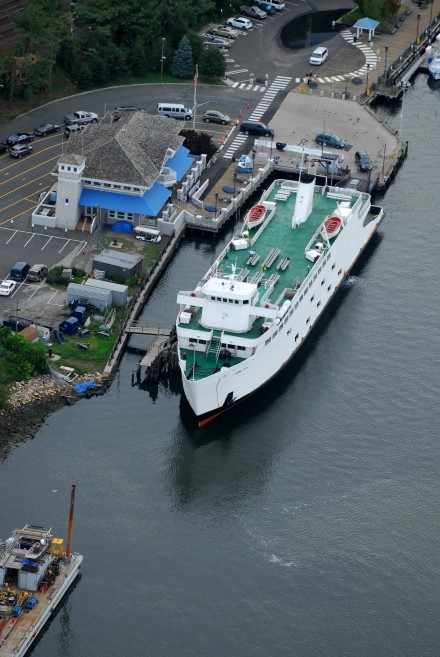 After years of squabbling over location, the city and Captain Brian McAllister, president of the Bridgeport and Port Jefferson Steamboat Company, are moving in the same direction regarding the ferry company's proposal to relocate from Downtown to a new terminal across the harbor in the East End. In fact, a 2012 Connecticut Deep Water Port Strategy Study commissioned by the Connecticut Office of Policy and Management, recommends that the state work to facilitate the move of the ferry terminal to the other side of the harbor.

From the report by Moffat & Nichol, a marine infrastructure adviser:
"In Bridgeport the State should support the Phase 1 relocation/expansion of the Bridgeport ferry to the Barnum Landing Location consistent with the analysis presented in the October 31, 2011 TIGER Grant Application, which was supported by the City of Bridgeport. A total of 347 jobs by 2020 are projected as part of that relocation and expansion. The City should integrate the ferry relocation with the recently-announced 150,000-square-foot Bass Pro Shop's location to the Steel Point development in Bridgeport Harbor."
Former City Councilman Bob "Troll" Walsh who doesn't often see eye to eye with city development decisions agrees with the relocation strategy. Walsh says the current ferry location "doesn't do anything for Downtown. There is no economic spinoff. There are no Downtown attractions like Port Jeff. Let's turn the ferry terminal into a very nice waterfront restaurant. Let's build a little marina for boats to dock at for the ballpark, arena and Downtown. Let's build some attractions on the dock. Shops much nicer than Captain's Cove. Like the artist village at Balboa Park. Juried artists, rent free, with hands-on workshops, etc. Then you could have a water taxi from the ferry to Pleasure Beach to the Downtown docks to Captain's Cove to dare I say Steal Point."
Some Downtown residents support keeping the ferry terminal in its current location or even a two-dock scenario with alternating docking throughout the day and evening for commuters and major event traffic at the Webster Bank Arena and Ballpark at Harbor Yard.
So, what say you? Move the terminal? Two-dock scenario?