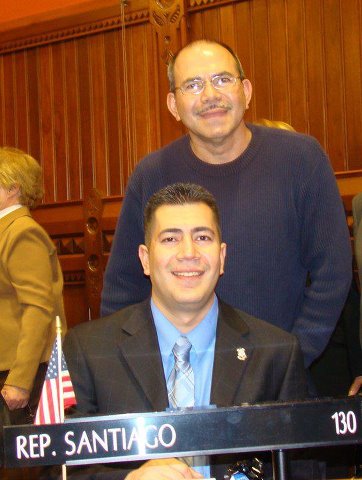 State Rep. Ezequiel Santiago, sitting, with his dad Americo who also represented the district in the State House.
Ezequiel Santiago, the genial Democratic State House member who represented Connecticut's 130th District, died early Friday morning. He was 45 years old. Friends say he died from a heart attack.
Mayor Joe Ganim on Friday invited all city employees, state and community leaders to join him for a moment of silence at 4 p.m. in the lobby of the Margaret Morton Government Center on Broad Street.
"My sympathies go out to Ezequiel's family. He was a dear man who will be missed by all who knew him. All of us in Bridgeport and across the state will feel the loss of his passing," said Ganim.

Ezequiel Santiago had a passion for the City of Bridgeport and its residents that led him to be involved in various positions in government and community. He served as City Councilman for the 131st District, and most recently was our State Representative of the 130th District for more than ten years. Ezequiel was also an employee of the city of Bridgeport that was dedicated to working with youth members in the Conservation Corps."
Governor Ned Lamont announced on Friday he is directing the flag of the State of Connecticut to fly at half-staff in honor of Santiago, the son of Americo Santiago who also served Bridgeport in the State House.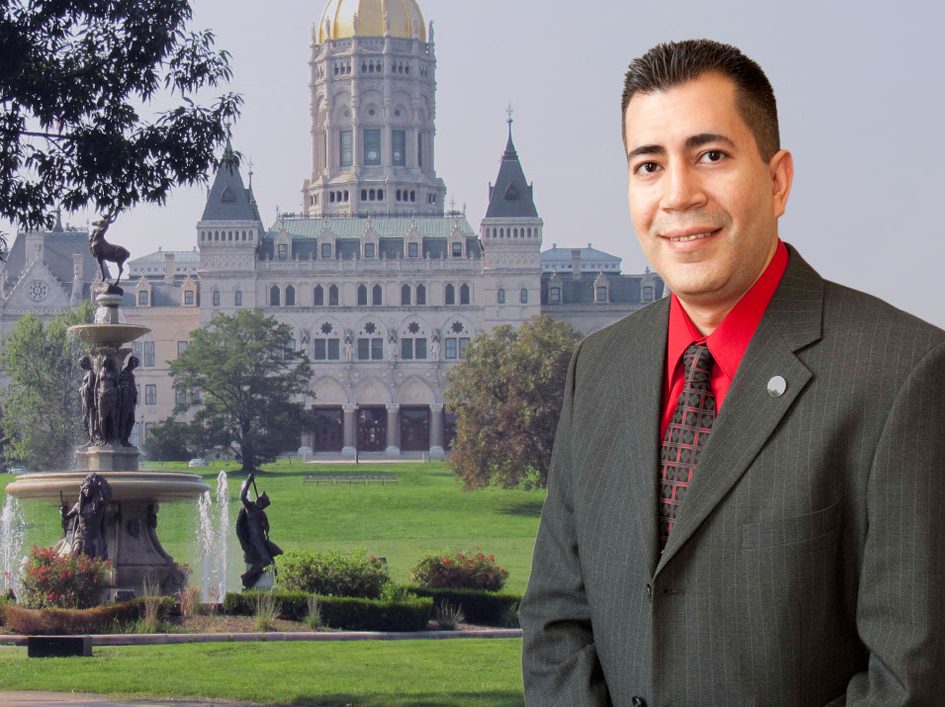 "We were terribly saddened to learn this morning of the sudden passing of Representative Ezequiel Santiago, a man who truly loved public service and his hometown of Bridgeport," said Lamont in a statement. "The State of Connecticut has lost an outstanding advocate, and our hearts are broken today as we mourn his loss. He was a devoted father, fighter for his community, and a dedicated public servant. Our prayers are with his family, friends, and constituents at this difficult time."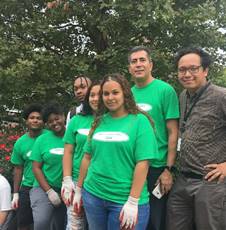 Santiago this year was selected by his peers to serve as leader of Bridgeport's legislative delegation. A former city councilman, Santiago's district covers the South End, Downtown and portions of the East Side and West End. He also worked in the Public Facilities Department.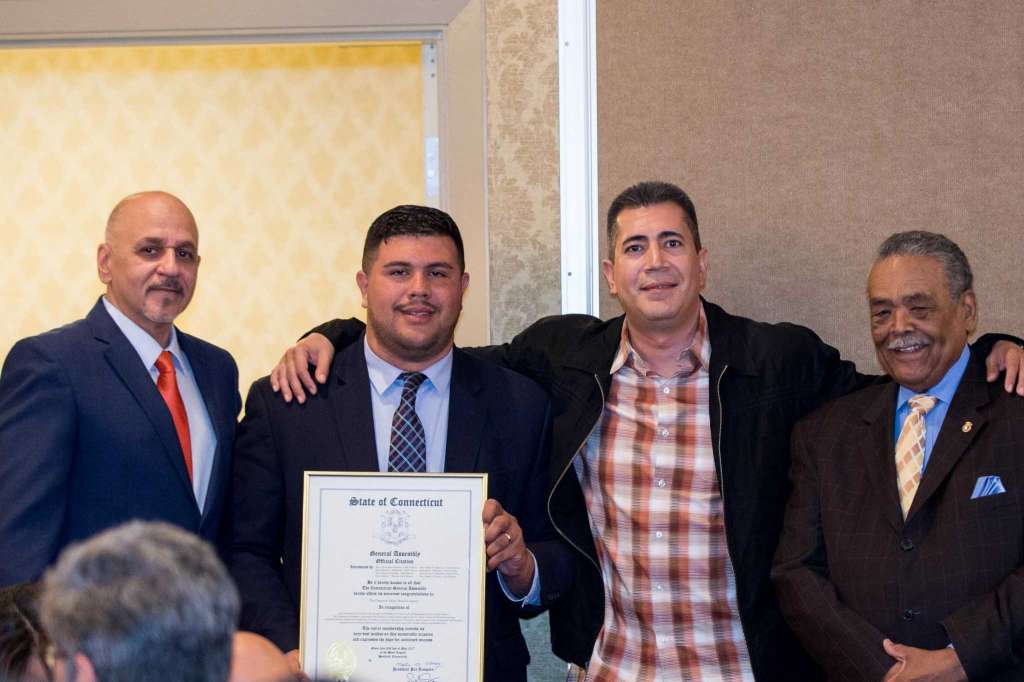 "I'm completely floored," said his friend State Rep. Chris Rosario. "In our last conversation (Thursday afternoon) he was in such good spirits talking about bills coming out of his committee. He seemed as healthy as an ox. He was everything to me, a brother, mentor and friend. He was knowledgeable, strong and effective. People are really mourning this lost on both sides of the aisle. They'll never be another like him."
Rosario said he believes Santiago died from a heart attack.
Santiago was low key, thoughtful and did not bring a lot of attention to himself. In the past two years he was one of the driving political forces in support of MGM's ongoing proposal to build a waterfront destination at the Steelpointe Harbor redevelopment area that's included in his district. Santiago was chair of the Banking Committee and also served on Appropriations and Commerce.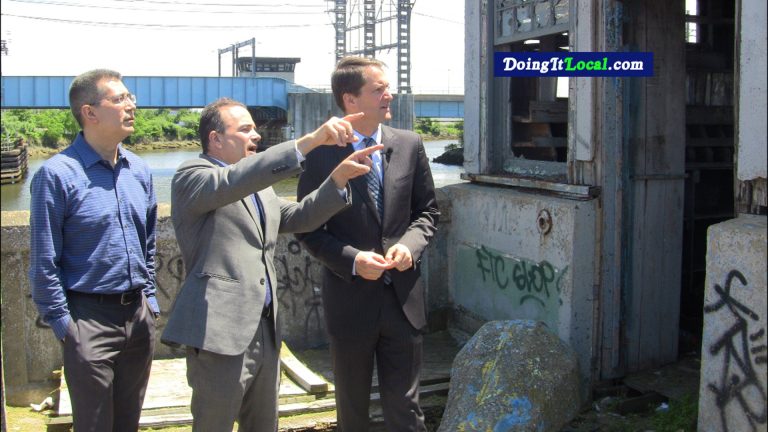 Santiago speaking in support of increasing the state minimum wage.
Santiago biography from his State House page:
Ezequiel Santiago was born in Camden, New Jersey and raised in the south end of Bridgeport. He began his political career as a volunteer on his father Americo Santiago's political campaigns for State Representative and Secretary of State, and assisting his step father, Mitch Robles with many local campaigns. His first election was for City Council for the 130th district representing the south end, lower eastside, hollow, and the downtown area and then followed by Town Committee Member of the 130th.

Ezequiel is a graduate of Gibbs College with a Certificate in Computer Technical Support. He worked four years as an Assistant Teacher for Head Start at Action for Bridgeport Community Development in Bridgeport, five years as a Computer Technical Support Representative for On Line Marketing supporting web hosting and email services, and two years as a Constituent Representative for the City of Bridgeport in the Fabrizi Administration. He is currently a City Stat Analyst for the City of Bridgeport. Ezequiel is a member of the Puerto Rican Day Directors.

As a City Councilman, Ezequiel served on the School Buildings, Education and Social Services, Economic Development and Environment, and Misc. Matters Committees. During his tenure as Councilman, he helped secure Community Development Block Grant (CDBG) funding for the YMCA, South End Committee Center, and the Sheehan Center. Ezequiel addressed public safety issues working to close roads for walkers to Roosevelt School, removing No Parking signs for Seaside Village, and assisted in securing handicap designations in front of private residences.