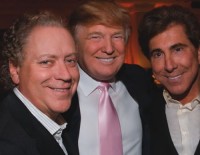 Do you like name dropping? Richard "Skip" Bronson obliges. The War at the Shore authored by Bronson provides an insider's look at the scorched-earth relationship between gaming giants Donald Trump and Steve Wynn over control of Atlantic City interests. And along the way Bronson chronicles the Connecticut clash between Trump and Wynn, the maneuverings by Connecticut to establish casino enterprises and failed efforts to expand gaming beyond tribal nations. The book has a number of factual flaws, but has its titillating moments.

(Full disclosure: I was a consultant to Trump in the mid 1990s.) Bronson's work in Connecticut was a mere appetizer for what was to come in Atlantic City. Bronson shares his story, a Jewish kid from Hartford who rises to successful commercial real estate developer and then pitches Steve Wynn, head of Mirage Resorts, about building a casino in Hartford. Governor Lowell Weicker, Bronson recalls in the narrative, explained that opposition from Hartford's insurance execs did not make gaming a fit, but he wouldn't get in the way of one in Bridgeport. Then Weicker throws a grenade into Bronson's plans, cutting a deal with tribal leaders of the Mashantucket Pequots, developer of Foxwoods, for 25 percent of the slot take in exchange for keeping out non-tribal gaming interlopers.
When Weicker leaves office Bronson's plans for a Bridgeport casino are revived in 1995 through Republican Governor John Rowland who embraces a casino for the state's largest city and then tanks support for the Wynn-Bronson proposal in favor of a Foxwoods proposal for Bridgeport on land controlled by Bridgeport developer Bob Zeff whom he describes as the "prince of darkness." Bronson recounts how he's stabbed in the back by Rowland, Zeff and others. Bronson shares a conversation with Rowland when their carts cross at a celebrity golf event in Farmington. "Nothing to worry about, Skiparoo" Bronson quotes Rowland. "He gave me a big wink and drove away." Not long after that Rowland selects the Mashantuckets as the preferred developer. Ultimately the gaming proposal for Bridgeport was rejected by the Connecticut State Senate led by Fairfield County gold coast legislators. A passage from the book:
The reason Las Vegas was America's fastest-growing city is because of all the new jobs created by the casino industry. Meanwhile, Connecticut continues to lose population each year. Hartford is a murder capital and Bridgeport continues to be one of the most impoverished cities in the U.S. I don't have nearly as much sympathy for the people who worked so hard to keep Mirage and/or non-Indian casino gaming out of Connecticut.
The book is loaded with anecdotes, sometimes morally superior and factually dubious, about Connecticut political figures such as former Mayor Joe Ganim and former state legislator Ernie Newton as well as Bronson's friend from childhood Billy DiBella whom he counted on for guidance as a power broker in the State Senate. In 2010 Bronson's buddy was forced to pay the federal government about $800,000 to resolve civil charges that he had accepted a sham fee on a state pension fund deal involving Paul Silvester, the convicted former state treasurer. His words dripping with glee, Bronson recounts how Rowland, Ganim and Newton all end up in the joint in unrelated matters.
Bronson arguably reserves his harshest criticism for Newton when he served in the State House. Bronson recounts a meeting nearly 20 years ago about Bronson's gaming bill.
But for pure naked All-American avarice, the prize goes to a certain clown named Ernest Newton II, the Democratic state representative from Bridgeport. In a private meeting in my office one day he told what he needed to convince him to support my bill.

"I have an idea," said Ernie

"What is it?" I said.

"You lend me some money. Cash, of course, Then, I forget to pay you back? How's that?"

"I said, Senator, I can't do that."

To which he replied: "Well, here's what you can do. You can get the hell out of my office!"
Note that Newton was not a "Senator" as Bronson quotes him when that supposed conversation took place. Newton was not elected to the State Senate until 2003. And whose office were they in, Bronson's or Newton's? If the Newton meeting was such a concern of Bronson's why didn't he report this to the feds? Bronson points out in the book that Ernie is seeking to regain his old State Senate seat. Ernie, of course, would consider that a badge of honor.
Bronson, at times, comes across sanctimonious toward the very politicians whose campaigns he larded up with thousands of dollars of contributions. He gave campaign cash out of the goodness of his heart? No, he wanted something in return.
Bronson is not kind to Bridgeport in the book, exaggerating it as a "disgusting place!" But he rationalizes doing business there because of its proximity. A passage from the book:
We got a tour of the city from Mayor Joe Ganim … Ganim showed us around his pitiful city. It was urban blight personified, one of the worst looking places I'd ever seen in my life. Although Bridgeport was only an hour's drive from Hartford, I had rarely ventured off the Connecticut turnpike onto the streets, and for good reason. Simply stated, it was one of the saddest American cities anyone had ever seen. It made Hartford look like Beverly Hills. In a strange way, though, this was good news for us — because the city was so desperate it would take any lifeline thrown its way.
Bronson, of course, wasn't calling Bridgeport a disgusting place when he wanted to plant a casino there. These days Skip is chairman of U.S. Digital Gaming, an operator of legalized online gaming. Hey Skip, what about online gaming for Connecticut? Skip says he, the Donald and Wynn are all getting along just fine. In fact, Donald and Wynn recently attended the publication party for the book.
For more: www.overlookpress.com/war-at-the-shore.html