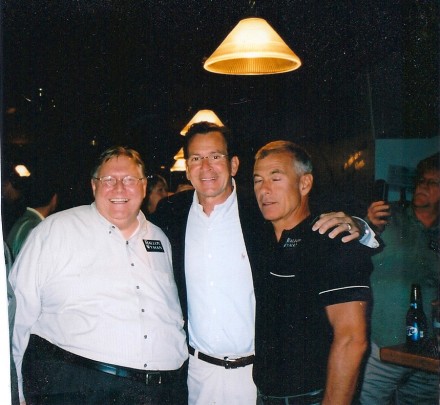 John Stafstrom, the city's bound counsel, was an early supporter of Dannel Malloy for governor. He was there in 2006 and there again in 2010 and in between and after. Mayor Bill Finch's campaign spent about $400k in its primary win over Mary-Jane Foster and now it's time to reload for the general election (not that he really needs that much with a 10 to 1 registration advantage). Did they have to spend all that money for the primary? Well, Finch operatives expected to win the primary two to one. That didn't happen, so maybe it's a good thing for them they emptied the tank and didn't take the primary for granted. The governor is scheduled to be in Bridgeport on Monday at a Finch fundraiser hosted by Stafstrom.

Stafstrom, former Democratic Town Committee chairman, is a cunning pol who has served as a key bridge between the mayor's office and the governor's office. Mario Testa, after five years of exile, reclaimed his party chairmanship in 2008 in a battle against Stafstrom, but Stafstrom has juice with the governor.
Mario and Finch supported Malloy's primary opponent Ned Lamont last year, a move that did not create much love between Finch and Malloy who did not endorse a mayoral candidate in the recent primary. Malloy and Mary-Jane Foster are friends. But Malloy is a pragmatic politician. If he decides to seek reelection in 2014 Bridgeport must be a key component. Sometimes it's better to bite your tongue and stay focused on the bigger picture. And that means showing up when an early supporter such as Stafstrom requests your presence at his home on behalf of the mayor who selects the bond counsel, a legal adviser on a host of city development and capital improvement projects. Stafstrom supports mayor, mayor rewards Stafstrom (yes, Stafstrom's qualified to do the bond counsel work), Stafstrom supports Malloy who appoints Stafstrom's spouse Dennis Murphy deputy labor commissioner (yes, Murphy's qualified to do the job, he also worked for Malloy when Malloy was mayor of Stamford) and governor appears at Stafstrom's house and so it goes, yadda, yadda, yadda.
Just in case you want to pony up and attend the love fest Monday night here's the official invitation. Tell them OIB sent you! Can we get a commission?
PLEASE JOIN
State Party Chair Nancy DiNardo
John Stafstrom
Paul Timpanelli
Susan Davis
Ernest Trefz
Lynn Fusco

FOR A COCKTAIL RECEPTION
IN SUPPORT OF THE RE-ELECTION OF
MAYOR BILL FINCH

With Special Guest
GOVERNOR DANNEL P. MALLOY

Monday, October 24, 2011
6:00 – 8:00 p.m.

At the home of
John Stafstrom
420 Brooklawn Avenue
Bridgeport, Connecticut
(Parking is on Laurel Place or Brooklawn Avenue)

Contribution Levels:
$1,000 – Sponsor
$500 – Patron