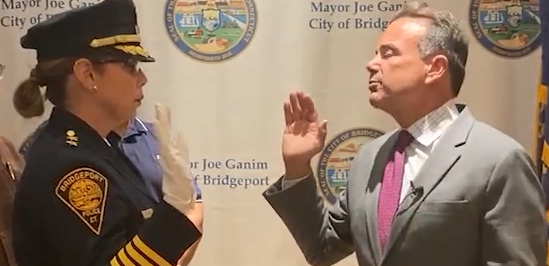 Funny how things shake out.
Former Acting Police Chief Rebeca Garcia, who charged that Mayor Joe Ganim selected Roderick Porter over her in the latest top cop search because of politics, is telling pols she wants to be a candidate for City Council running in the North End 133rd District.
When Ganim tapped her acting chief following the test-cheating scandal of Armando Perez, making her the first Latina to lead the department, the politics did not concern her.
The internal racial politics Garcia created in the police department, including the marginalizing of Captain Lonnie Blackwell and the retirement of then-Captain Porter were factors in Ganim's decision.
Now retired, Garcia also felt no obligation to communicate with her resident constituency, punting every significant police issue to the mayor's office. (Please, answer for me.)
The notion that Garcia was under a gag order is a complete fallacy spread by Ganim haters.
Chief, how about a Facebook live session to share with residents the inner workings of the police department? Nope.
Neighborhood meetings to build relationships? Nope.
Promoting your rank and file officers? Nope.
Providing media access? Nope.
Porter is doing all the above when Garcia shunned it. Porter's been a godsend to Ganim while stating publicly I'm not contributing to your campaign, or anyone else for that matter. Let me do my job, I'll not stick my head in the sand.
Porter has been true to his word.
Where does Garcia align?
She's not exactly a Dem insider favorite.
Ganim opponent, State Senator Marilyn Moore, backed Ganim's Porter pick.
Garcia certainly knows John Gomes who spent nearly seven years as a top Ganim official.
Run with Lamond Daniels?
All of this is a work in progress, depending on the configuration of the race.
Garcia cannot be dismissed as a credible council candidate given her name recognition, service to the city and Bridgeport roots. She has something to offer. She loved being called "the boss lady."
Still, it begs the question: she was not a community person as chief, why now as a candidate for public office?
She didn't like politics then, now she likes it if it gets her elected.
Selective?