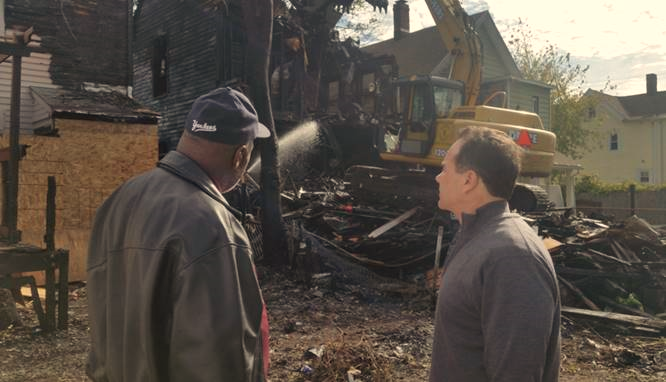 Funeral services for former state representative, skilled political operative and anti-blight director Tom Coble will take place on Wednesday 11 AM, at The Cathedral of the Holy Spirit, 729 Union Ave, Bridgeport. The family will receive guests from 10 AM until time of service at the Church. Burial will take place at Mountain Grove Cemetery, 2675 North Avenue.
More on services and Coble's life from friends and family:
You are invited to view the celebration of the life of Thomas K. Coble, Sr. on Wednesday, January 5, 2022 @ 10:00AM for the Viewing and @ 11:00AM for the Service. Please join the live-streamed celebration of life, by clicking the link below:

Click HERE to view the home-going service for Thomas K. Coble

or by copying & pasting the link below into your web address bar:

Live Stream Service -Thomas K. Coble | CR-Rentals

Thomas K. Coble (Tom), the only child of the late Judy M. Coble, departed this life on December 21, 2021 in Bridgeport, CT. He was a Bridgeport native, raised in the public housing community of Father Panik Village. He loved playing sports growing up and participated in the local youth teams where he developed a love for football. He graduated from Warren Harding High School in 1973 and played on the football team during his high school career. He earned his Bachelor of Arts in Political Science from the then-named Central Connecticut State College in 1977 and played on the college football team. Ever the Activist Leader, he was elected President of the Organization of African American and African Students (OAAAS). He was out front leading the struggle for equality on campus. He was an innovator, bringing diverse entertainment venues to the college such as WAR, Labelle and legendary drummer, Billy Cobham. When Black males on campus were seeking to form a unifying group they could call their own, he suggested Omega Psi Phi Fraternity. Tom initiated the founding of the Rho Upsilon Chapter of Omega Psi Phi, December 13, 1975. Many years later, when the chapter was no longer active, he was instrumental in its reactivation. He received Omega Man of the Year, Superior Service and Basileus Awards and served as Basileus from 2009-2014. Because of his efforts, Rho Upsilon Chapter is still an active participant in the greater Bridgeport Community.

After graduation, Tom worked for the Department of Fair Housing as a Community Relations Coordinator, City Trust Bancorp as a Branch Manager/Department Head, Bridgeport Board of Education for Literacy Improvement Needs Collaboration (LINC) as a Project Coordinator and Hall Neighborhood House as a Planning and Development Consultant. He entered the retail sector and worked for both Consumer Value Stores (CVS) and Party City where he was the Store Manager. Later, he returned to the City of Bridgeport as a Special Project Coordinator for Housing and Urban Development (HUD) Community Development and Block Grant Program (CBDG) followed by a position in Office of Planning and Economic Development (OPED) as Division Director for Office of Neighborhood Revitalization/ Anti-Blight.

He was instrumental in developing plans city wide and tackled the major blight issues, orchestrating numerous demolitions of unsafe structures. He was affectionately termed the Blight Czar. He worked for Yale New Haven's APT Foundation after a separation from the city as a Technical and Clinical worker. Lastly, he was rehired by the City of Bridgeport and in his final position retired as a Public Facilities Project Manager in October 2021.

Tom was a fixture in Bridgeport Politics and was involved in delivering the Black vote for every Democratic Mayor from Mandanici (1975) to Joe Ganim (1991 & 2015), a span of 40 years. He served in the Connecticut State Legislature, representing the 129th Assembly District from January 1981 to February 1983. He was appointed by Mayor Mandanici to the Board of Fire Commissioners, the first African American appointee. He was influential at every level from the Governor's office to Town Committee.

He was a formidable opponent and an untiring advocate, driven with a singleness of purpose unmatched by anyone. He was a shrewd visionary who believed in the advancement of others and helped to launch the careers of numerous minority candidates. He was always available to offer guidance in critical situations. Politics was his passion, and he was a master strategist and power broker. He received numerous accolades for his efforts.

Tom was a loving husband, father and grandfather. Left to honor his memory are his wife, Felicia Coble of Stratford, his four sons Vaun Coble Sr. of Bridgeport, Theodore Miller III (Trey) of Woodbridge, VA, Grant Miller of Hartford, CT and Kevon Coble of Petersburg, VA, Grandsons Vaun Coble, Jr of Bridgeport, CT and Thomas Ronald Miller of Woodbridge, VA, Mother-in-Law, Elene M. Crosby of Stratford, CT and loving Aunts, Uncles and Cousins.