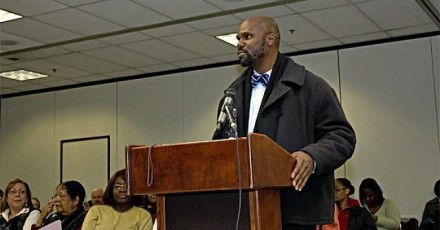 City Librarian Scott Hughes is racing against the July 18 Citizens Election Program calendar to qualify for an $83,000 public grant in his August 12 Democratic State Senate primary against incumbent Andres Ayala. Hughes must raise $15,000 in small donations, including 300 contributions combined within Bridgeport and Stratford, for grant approval. Time is running short, but if he qualifies he could pose a credible challenge to Ayala.

Hughes is about $1,500 away from reaching the $15K threshold, according to his donation page. Ayala has been approved for a public grant. Connecticut's 23rd Senate District covers about two thirds of the city and a piece of western Stratford. Ayala defeated Ernie Newton and incumbent Ed Gomes in a 2012 primary on his way to winning the seat.
Board of Education member Andre Baker is also trying to qualify for public cash in his race against Democratic party-endorsed Ernie Newton for the State House seat Newton once occupied. Baker must raise $5,000 in small donations to get there.
Hughes won a seat on the Democratic Town Committee in March when anti-establishment forces gained control of the Upper East Side 138th District.
If Hughes qualifies for the public moolah he'll have nearly $100,000 to spend in the final weeks leading to the August 12 primary, a mighty sum in a compressed process. The key for Hughes' campaign advisers is to anticipate how and where the money will be spent if he qualifies.