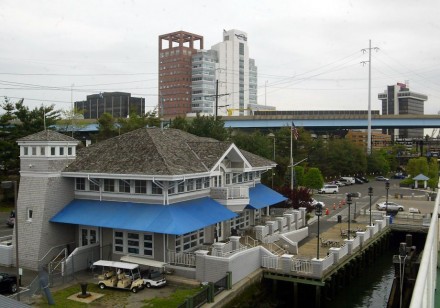 Citizen financial scrutineer John Marshall Lee has uncovered waves of dubious decisions from the prior administration's control of the Bridgeport Port Authority, what he describes as the warping of an institution to make it less open, accountable, transparent and honest, his acronym for OATH. In his address to the City Council Monday night, he urged them to take a closer look at this leaky ship so it doesn't bottom out taxpayer dollars. From Lee:

Twelve and a half years ago in 2002, The Bridgeport Port Authority last approved a set of by-laws. For reasons unknown at the moment the purpose of the Port Authority and its by-laws have not been well understood by the public, nor have they been lived up to in reality by stakeholders in the City.

Basically there are three members of the public appointed by the Mayor and approved by the Council. Unfortunately, there has been one vacancy on the Commission for more than six years even though the City web site continued to list three active community members, and two of them indicate 'terms expired./ This happens too many times in the City and vacancies make quorums difficult to assemble.

For about six years, the BPA has had an acting Exec Director in the presence of the former Chief Administrative Officer. Previous to CAO Nunn adding this responsibility to his City burden, the Port Authority had retained a CPA to prepare financial statements that were available at each meeting. Outside audits showing operating expenses and revenues as well as assets and liabilities were routine at the time. There appear to have been no such records, reviews or audits on which any Commission member could rely during the past six years. There has been adequate revenue to compensate at least two employees and for an interest payment annually of nearly $100,000 on a $900,000 mortgage note signed in 2005 against BPA properties that includes at least 42 acres on the east side of the harbor and the ferry terminal on the west side. But does the quasi public authority require a specific audit at this moment to reboot its process or come up to speed to meet State statutes?

The Port Authority has the responsibility of developing the port region. In terms of revenue production or economic development what revenue is generated or what is planned for the entire acreage? The record is certainly not clear at the moment as to whether appropriate voting on existing agreements has been held by "disinterested parties" for instance. Is there additional debt or obligations other than the $900,000 obligation that carried a 10.75 interest rate per annum for 10 years? Why was this note not refinanced to a lower rate by the BPA? That is a $96,750 expense paid to a Westport real estate financing firm since 2005 that has used Willinger, Willinger and Bucci for legal services on occasion.

In November 2015 a series of emails went between City Hall including City Attorney and Titan Capital, the lender, as well as Thomas Sherwood of OPM. Sherwood approved a transfer of $955,000 from Code 59999 (an accounting entry into which Capital funds are moved temporarily until they are assigned to a specific and detailed project) as there were "not enough funds in line 59500." This is contemporary with a purchase order-backed check to Construction Management Services identified as "repayment of mortgage note"" $900,000 and $9,250 as payment note for Port Authority. Why was CMS in this activity?

Did the $955,000 from OPED capital account originally come from bonds covered by legal instruments outlining responsibilities and limitations on the City? It seems so. Was such transfer legal or sensible? What power did the OPM director believe he was exercising in organizing this last-minute financial transaction? What are the current limits on City transfers of any kind without City Council approval? How many times has the executive department sought such approval in the past two years? Because the City Attorney Office was part of the communications tree at the time of the debt payment, were any flags raised about the suitability of this transaction or the manner in which it was executed?

This inquiry has raised an article on Only in Bridgeport and again today from Brian Lockhart of the CT Post. Are you confused by the story? Are you disturbed by how easy it seems for the executive branch to leave you out of decision making and info? How will you use your authority to respond?

And while you are at it, will you allow the City to spend $2 Million of capital from bonding for police cars that will be fully depreciated in five years yet still cost the City interest and principal payments for all 20 years?

All of you are voters on the matter. Is that the way to purchase automobiles? Would you recommend it to family and friends? Time will tell.