Weekend Update: What? Former Bridgeport GOP Town Chair Rick Torres said something controversial at a forum for Fourth District Congressional candidates? No way. Rick wouldn't say something controversial, would he?
The Connecticut chapter of the Council on American-Islamic Relations criticized the statements by Torres, who said, referring to Muslims while discussing illegal immigration, "It turns out, folks, they are here, they're among us. We are at war with Islam. I don't tolerate people who are not tolerant."
I guess they don't know Rick.

Convention Fever
In one week Democratic delegates will endorse candidates for governor and all other constitutional offices. For governor it will be either former Stamford Mayor Dan Malloy or Ned Lamont.
Crazy stuff can happen at party conventions. Saw it happen in 1994 when I was campaign manager for Mayor Joe Ganim, candidate for governor. Joe got into the race after Governor Lowell Weicker who had helped bail out the city from fiscal hell, decided not to seek reelection. We were cash rich and delegate poor so when making the ballot wasn't in the cards for Joe (you could not petition your way on back then) we backed out of the race one week before the Democratic convention throwing our support behind likely endorsed candidate State Senate leader John Larson (today Congressman Larson who endorsed Dan Malloy on Friday) with the hope he'd select Joe as his running mate.
During the Democratic convention in Hartford, as Larson's boys including State Majority Leader William DiBella pondered selection of the second slot, a contingent of Connecticut mayors who wanted one of their own on the ticket adjourned to a watering hole in the Hartford Civic Center, among them Hartford Mayor Mike Peters and Waterbury Mayor Ed Bergin.
Mayor Mike and Mayor Ed were lubing up the joint. Finally we got the call. Larson had made his decision. We all squeezed into a conference room while delegates in the civic center convention hall waited for an answer.
Larson, facing dozens of Democratic big shots, announced, "I think it's time to embrace Rich Balducci," he told the crowd. Balducci, a long-time legislator, had also been a candidate for governor. Emerging from a back room thumping his chest, Balducci announced, "I want everyone to know that I'll be running as an independent lieutenant governor," suggesting he'd take the second slot but he'd not be breaking his ass for the ticket. Balducci had also given his word to State Comptroller Bill Curry, the other Dem guber candidate in the race, that he would not work against him.
Bridgeport Democratic Town Chair Mario Testa pounced. "Wait a minute, Mr. Balducci, are you telling us you're not going to support Larson?"
Balducci stammered on his words. In a flash there was chaos.
"What the fuck is going on around here!" Mayor Peters screamed.
"Yeah, what the fuck is this!" Mayor Bergin yelled.
Peters walked up to Larson and declared: "We're going to settle this right now."
Peters, Bergin and New Haven Mayor John DeStefano circled with Ganim. "Joe," Peters asked, "do you want to be lieutenant governor?"
Joe nodded yes.
"That settles it," Bergin chimed in.
The mayors walked up to Larson and said "Enough of this horseshit, Joe's gonna be the candidate." So it was done. That's how 34-year-old Joe Ganim became the candidate for lieutenant governor in 1994. It didn't work out. Larson lost the primary to Bill Curry and Curry lost the general election (with Joe as his running mate) to John Rowland.
Larson Endorses Malloy

Speaking of conventions here's a video clip from Congressman Jim Himes addressing supporters at Matty's Corner in Black Rock after he was endorsed by Dems Monday night:
The Bounty
Hey, a replica of The Bounty, the British transport ship, has pulled into Captain's Cove Seaport. Tours this weekend. Check it out. Thanks to Captain Morgan Kaolian for the aerial: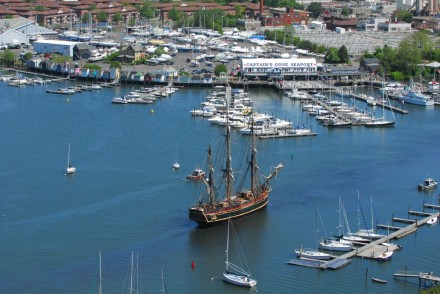 Zoo Tix For You!
I have a few zoo passes remaining for a family of four. If you want to take the kiddies, your lover, the other, whatever, drop me an email at lenniegrimaldi@onlyinbridgeport.com and I'll get them to you.
David Walker In Black Rock
I.O.U.S.A. with David Walker

Featuring David M. Walker, Robert Bixby, Paul Volker, Ron Paul, Warren Buffett, Paul O'Neill and others.

at the Black Rock Branch Library

David M. Walker, President and CEO of The Peter G. Peterson Foundation and former Comptroller General of the United States and head of the Government Accountability Office (GAO) from 1998 to 2008, will be hosting a screening of his film I.O.U.S.A. – a timely documentary about America's addiction to debt.

"Resolutely non-partisan… a documentary everyone should see." – Jeannette Catsoulis, The New York Times

"…may be to the U.S. economy what 'An Inconvenient Truth' was to the environment." – Reuters

"…I.O.U.S.A. accomplishes an amazing thing. It explains the national debt…" Roger Ebert, Chicago Sun-Times

Following the showing there will be a discussion led by David Walker.

Special note – I.O.U.S.A.: Solutions, a follow-up to I.O.U.S.A. and the subject of a recent CNN special presentation, will also be shown.

When: Thursday May 27th 6:30 PM

Where: Black Rock Branch Library
2705 Fairfield Avenue
Bridgeport, CT 06605
(203) 337-9676
From UB:
Ingestible Medical Camera Helps UB Students Win Top Engineering Prize

What's the best way to engineer a win?

University of Bridgeport School of Engineering students have the formula: for the third year running, they have captured first place and other top awards at the annual American Society for Engineering Education (ASEE) Competition, which was held May 7-8 at Wentworth Institute of Technology in Boston, MA .

"We are very proud of this unprecedented achievement, having won the first prize for three consecutive years," said Engineering School Dean Tarek Sobh.

In 2008, UB students swept the ASEE's so-called Student Poster Competition, featuring graduate research projects, when the competition was held at the U.S. Military Academy at West Point. Last year, University students again captured the top prize when the ASEE event was held at the University of Bridgeport.

The ASEE is organized by regions. As they have in the past, UB students competed against Northeastern University, UMASS, University of New Haven, Boston University, and other college and university teams that are located in the ASEE northeast region.

UB graduate students Ajith Kumara and Yin-Ju Chen were the 2010 first-place winners in the ASEE Student Poster Competition. Their project, "Bleeding Detection in Wireless Capsule Endoscopy Videos Using Temporal Characteristics," captures pictures of the insides of the intestines using miniature cameras that are ingested in a pill. Kumara and Chen were advised by Professor Dr. Jeongku Lee.

"They take a video of the intestines to see if there is bleeding or other problems," said Sobh.

In addition, UB students Manan Joshi and Madhumitha Iyer won third place in the Student Poster Competition for their research project, "Effects of Gender, Accent and Localization on Speech Intelligibility in Multiple Speaker Environment."

Their research focuses on audio-signaling processing. They were advised by engineering professor Dr. Navarun Gupta.