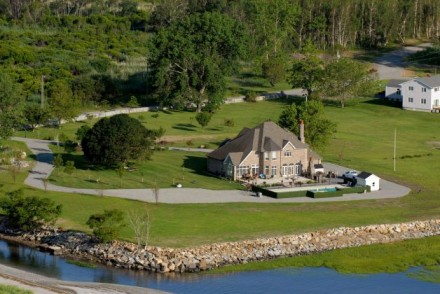 Airport Manager John Ricci today was terminated by the city for 'reckless and intentional misconduct' accused of a business association with radioactive developer Manny Moutinho who was awarded $400,000 to make an improvement to his own driveway leading to his waterfront Stratford mansion under the guise of a municipally owned airport safety project. Ricci is expected to file a lawsuit against the city for unlawful termination. He was notified of his firing today, according to officials.

Ricci had been suspended with pay pending the city's review of the circumstances that led to Moutinho receiving the work in an expedited fashion. Superior Court Judge Dale Radcliffe ruled a few weeks ago that city taxpayers should not have been obligated to cover the cost of the work. City lawyers approved the arrangement that led to Moutinho receiving the work.
Ricci has remained silent during the city's review process. He had told the Connecticut Post city officials were aware of his relationship with Moutinho. He said he did nothing improper. Supporters of Ricci maintain he's a scapegoat for the city's incompetent handling of the matter.
The city issued a set of charges against Ricci. A hearing took place for Ricci to respond to the allegations. The city review team was comprised of Labor Relations Director Larry Osborne, labor relations official Neil Austin and attorney John Bohannon. Ricci has union rights so it's not likely he will take the termination without a court fight.
Lawyers for the city and Ricci had tried to work out a separation package that would allow Ricci to retire. When that reached an impasse the city moved forward with the termination notice.
Moutinho, whose construction business is located in Bridgeport, is the subject of a federal probe into his sewer work in the town of Trumbull.
News release from Mayor Bill Finch:
Mayor Bill Finch today announced the termination of Airport Manager John Ricci for 'reckless and intentional misconduct' in regard to the construction of an access way on airport property. In light of the recent internal investigation into Mr. Ricci's actions, Mayor Finch is implementing new and enhanced reporting requirements of city officials to better monitor compliance with the City's Code of Ethics. Mr. Ricci's case has been referred to the Ethics Commission for review as appropriate.

"The City of Bridgeport requires a very strict standard of conduct for its City employees. The current Code of Ethics however, does not require an annual accounting of the outside financial interests of City employees which creates potential for conflict for those employees involved in the decision-making process for City contracts. Nor, as a general rule, does it contain a process to determine which outside employment could create a conflict. We have examined the current best practices to determine how we can best modernize our oversight in this area."

Department heads and employees involved in procurement will now be required to annually fill out a disclosure form, similar to those used by the state of Connecticut, in which the employee must disclose any financial or personal interests which may conflict with City contracts.

All City employees also will be required to take part in ongoing annual ethics training and testing, which has been developed in conjunction with the City's Human Resources department and the former chair of the Ethics Commission Joseph Ianniello, a retired human resources executive.

"With these enhanced requirements, our goal is to have the strongest ethics standards in the state. This will enable us to proactively determine, on an annual basis, whether any of our senior City employees might have a conflict of interest that could cause problems in contract compliance or the award of contracts," Mayor Finch said.

"We will continue to move forward aggressively with the runway safety zone improvements at Sikorsky Airport as planned, in order to meet Congress' December 31, 2015 construction deadline. As we are only too aware, the installation of an EMAS system at the end of Runway 6/24 is vital to preventing future tragedies such as the 1994 multiple fatality crash at Sikorsky," said Mayor Finch.

"This episode has reinforced my administration's commitment to maintaining the public's trust and faith in their government, and the implementation of these enhanced ethics reporting requirements will help us achieve that goal," he added.

Several weeks ago, the City engaged John King, a partner in the law firm Updike, Kelly & Spellacy, and City Attorney for the City of New Britain, and Hugh I. Manke, a senior principal in the firm and a specialist in municipal land use matters who represented Tweed New Haven Airport Authority and the City of New Haven in suits against the town of East Haven, to conduct a comprehensive review of the City's procurement procedures, particularly as related to the airport access way issue.

In addition, the City solicited two independent post-construction scope of work/price analyses to determine the true cost range of the access way project: (1) Epic Construction at $810,000 and, (2) PJ's Construction at $517,000. Significantly, both figures were substantially more than the $389,000 bid by Mark IV Construction, as well as higher than the other two original unsuccessful bids submitted by Candee Construction ($410,000) and Julian Construction ($605,000). This analysis belies the unsubstantiated reports and estimates that have recently been circulating concerning the appropriate cost for the access way project.