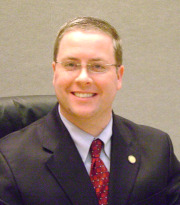 Gail Janensch, an active member of the League of Women Voters, says it's time for new blood on the Democratic Town Committee with a message of reform. She's running on a slate for the March 4 primary challenging the established slate in the North End 133rd District led by City Council President Tom McCarthy who's also a city employee working at the pleasure of the mayor. Judging by Janensch's recent posting on OIB, the challenge slate will leverage language in the City Charter–prohibiting city employees serving on the City Council–to persuade district change.

From Janensch:
Opportunity is knocking for a better, fairer legislative branch of our City of Bridgeport. LWV member Gail Janensch (71) here who called Tom McCarthy personally to tell him my name would appear on the Challenge Slate in 133rd. I taught Civics at Westhill and I believe paid city employees (no matter how nice they may be) do not belong on the body that votes the City Budget. I am the 3030 Park resident who brought both Chris Murphy and Linda McMahon to greet our seniors and spell out their positions. I am the one who arranged for a LWV-sponsored forum for ALL EIGHT candidates who ran in last November's Board of Ed election. My new blood is needed in the city where I will live until death shuts me up.
Reformers argue how can the council president, head of the legislative branch, serve as a check on the executive branch that controls his paycheck? McCarthy is deputy director of Labor Relations. He has argued for years he makes his decisions independent of mayoral influence. McCarthy is a hard campaigner with a strong following in his district neighborhood. He did not face a primary last September when all endorsed candidates for City Council and school board were defeated. Reformers believe they missed an opportunity to take out McCarthy last year and are now challenging his slate in a district battle. The State House member who serves the district, Jack Hennessy, has been pushing a government reform bill in the General Assembly to close a loophole in state law that allows city employees to serve on the city's budget-making and legislative body approving their own wages and benefits in defiance of the City Charter.
State law prohibits municipal employees from serving on boards of finances. Hennessy and State Rep. Auden Grogins simply want state law extended to include all municipal bodies that function as boards of finance. State Senator Anthony Musto, who is politically aligned with McCarthy, helped kill the bill in last year's legislative session. Musto delivered the oath of office to McCarthy when Big Mac was sworn in for another two-year term in December. Hennessy says he will reintroduce the bill in the session that is underway. Hennessy has also announced his support for political activist Marilyn Moore who's challenging Musto in an August primary.
This is an opportunity for reformers to take charge and make change. It's also an opportunity for McCarthy to validate his support in the district with the help of his veteran slate. (Editor's note: happy birthday to McCarthy.)
The top nine voter producers among the two lines will be elected to the 90-member Democratic Town Committee that endorses candidates for public office and elects a chairman. Mayor Bill Finch's ex-wife Claire Mastromonaco had qualified for the challenge slate, but has withdrawn her name from running.
133rd District: Thomas McCarthy, Howard Austin, Sr., Joseph Hatrick, Sr., Joseph Moura, Peretz Robinson, Abel Chaparro, Jeanette Herron, Albertina Baptista, Vincent DiPalma.
Challenge slate: Jessica Allen, Josh Kristy, Louis Innacell, Gail Janensch, Mahlon Goma, Ann Martin, Earl King Jr., Eugene Gailliard.