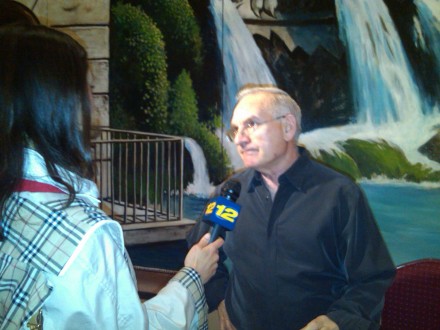 You thought you had to wait until the summer for the next round of primary season action? Hey, the state's largest city marinates in primaries and we're just around the corner from winter primaries for Democratic Town Committee seats. Fire up the absentee ballots!

What are town committee members? They're the party regulars who conduct party business, elect a chairman and endorse candidates for municipal office. The Democratic Party in Bridgeport has 10 districts with 9 members per for a total of 90 seats. As we turn the corner into 2014 each committee district will select their respective members, some of them the usual suspects who hold down municipal jobs. Those town committee members can be primaried in early March. Right after that an election will take place for town chair who like town committee members has a two-year term. The current occupant Mario Testa is in his second tenure as chairman. He had the job during the Joe Ganim mayoral years. Mario resigned in 2003 to take heat off John Fabrizi who had succeeded Ganim as mayor after Joe resigned following conviction on corruption charges. Mario regained the chairmanship in 2008. Does he want another term?
He certainly has been a much quieter party leader this time around where his Madison Avenue restaurant serves as the epicenter of city politics. It's good for restaurant business. Mario still likes the political action, but he doesn't have a close relationship with Bill Finch. He did with Ganim. Mario's strength throughout the years has been fundraising, kicking party regulars in the butt to work on campaigns and working his serial absentee ballot voters. Bridgeport government is not the patronage machine it used to be. Just not as many jobs to go around. This can be challenging to keep the troops in line on behalf of party peace.
One name floating out there as a possible challenge to Mario's chairmanship is former State Rep. Americo Santiago who's been working Hispanic districts to build a coalition base. Americo also has his eye on the Democratic registrar's position occupied by Sandi Ayala who's up for reelection in 2014. In some circles Mario is the ultimate statesman compared to Americo's manipulative political persona.
The party has all sorts of split ends heading into town committee selections.
Anti-establishment forces are feeling pretty good following the September 10 primary drubbing off all endorsed candidates for City Council and school board. Had Democratic insurgents realized the potential shellacking for a clean sweep across the city they would have run candidates in all council districts. Some of the operatives looking to challenge veteran committee members are Democrats who were aligned with the Connecticut Working Families Party that now has coalition control of the Board of Education. Meetings are already underway to map out potential challenges. Sometimes seats can be leveraged simply by the threat of a primary. Okay, if you don't primary we'll throw you a few seats.
There has been some banter from OIB posters such as former councilman Ralph Mojica (Mojo) about building coalitions to wage DTC challenges. So let the games begin.