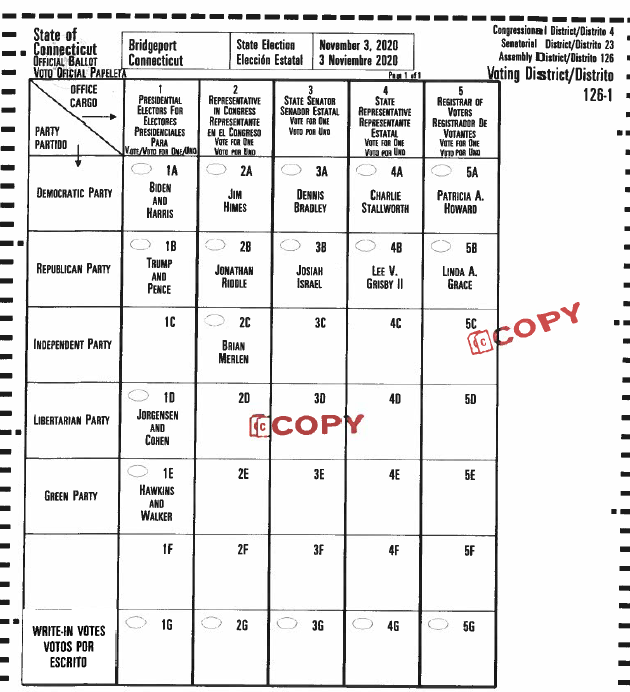 Sample ballot 126th State House District
Five weeks from the general election the state's chief elections division is engaged in correcting disinformation about the voting process. And speaking of the disinformation commander in cheat, did you pay more in income taxes than Donald Trump?
Teachers paid $7,239
Firefighters paid $5,283
Nurses paid $10,216

Donald Trump paid $750 pic.twitter.com/5YE1cbYsBN

— Team Joe (Text JOE to 30330) (@TeamJoe) September 28, 2020

From Kasturi Pananjady, CT Mirror:
Connecticut is paying the postage for all absentee ballots and absentee ballot applications in the state this year. But residents may have seen a meme claiming that absentee ballots require two stamps–which, in Connecticut, is not the case.

That's an example of the kind of false information about the electoral process that Secretary of the State Denise Merrill's office says it is focused on countering this year.

So far, Connecticut has hired an intelligence analyst to monitor the internet and is one of 11 states using new software to empower election officials of all levels to report false claims. It has also created a tool to demystify absentee voting by allowing voters to track their ballots.

Merrill spokesperson Gabe Rosenberg says the office is tasked with "identifying information regarding election administration that is not correct, and either correcting it, reporting it, or likely both."
Full story here.
Don't know where you vote? See here.