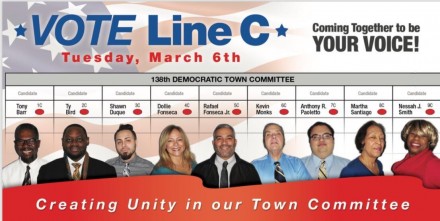 One week left to primaries in six of ten Democratic Town Committee districts. The Upper East Side 138th District is loaded with passion as a slate tries to undo District Leader Maria Pereira, a leading lightning rod in city politics, whose slate won all nine seats two years ago. Some of those slate members are challenging Pereira this time around. Most of the thunder by the opposition slate is directed at Pereira, if not by name, on the District Watch 138th Facebook page.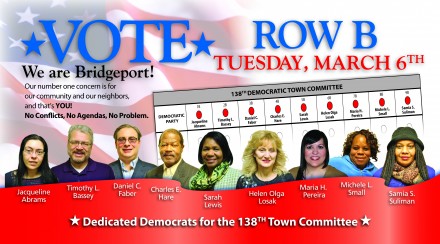 Former State Rep. Edna Garcia, not a slate member, is among those supporting Row C who've adopted the moniker "clean" campaign slate.
I pray that voters in the 138th are informed as to who the 9 Town Committee candidates are for each team. Your opposition, unfortunately, is led by a woman who causes divisiveness everywhere she goes. She does not care about the community; her focus has always been herself. The way she operates is by spreading rumors, causing mayhem and create division, in order to attract the newspaper and TV, to get a minute of fame.

I trust that the 138th voters, will see through her hypocrisy and hatefulness, which is what she thrives on, and vote with the bottom line with your nine Town Committee candidate's names on it. I have personally known many of you for a long time, and I know everyone in your team cares deeply for the 138th.

But just caring is not good enough. Your team is up against a vindictive, stop at nothing challenger that will do whatever it takes to win this primary. I advise all your nine Town candidates, that if you really want to win, you start calling on friends, family and ask them to help you get out the vote. Your team must work tirelessly until primary day.

Do not waste your time posting videos to tell everyone what the opposition is doing, is below your team's professionalism. You should be knocking doors, and making telephone calls. Everyone already knows, who the opposition is and what her team represents. Complaining and engaging in shenanigans, does not win elections. Staying focus and working like hell does.
Pereira, for one, offers a rejoinder to the Line C for "clean" slate, calling it the "conflict and corruption" line.
District Democrats can vote for any nine of 18 candidates.
138th District, Upper East Side (no line A because no party endorsement)
Slate B: Jacqueline Abrams, Timothy L. Bassey, Daniel C. Faber, Charles E. Hare, Sarah Lewis (not this Sarah Lewis), Helen Olga Losak, Maria H. Pereira, Michele L. Small, Samia G. Suliman.
Slate C: Tony Barr, Tyreke Bird, Abraham Duque, Dolores Fonseca, Rafael Fonseca Jr., Kevin Monks, Anthony Robert Paoletto, Martha Santiago, Nessah Smith.