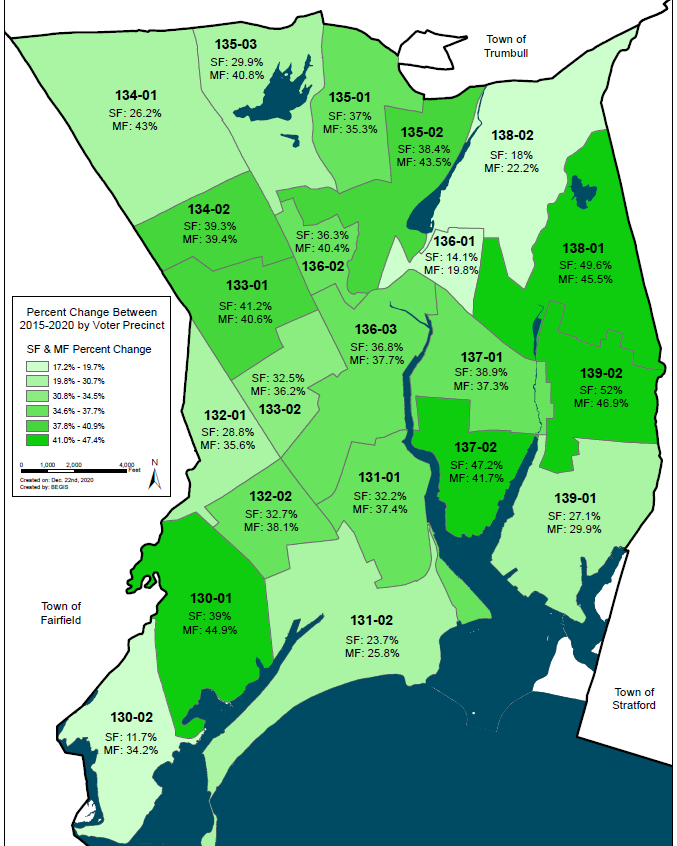 Figuring out your tax bill based on the property assessment can be a mind-numbing experience. What do these numbers mean?
To calculate your property tax multiply the property assessment by the mil rate and divide by 1,000. You can't do that yet for the budget year starting July 1 because the mil rate won't be set officially until June.
By April, city bean counters will have a better handle on the general range of the rate. Currently it's 54. It will go down based on the overall citywide grand list growth, but by how much? Will it be 43, 44, 45?
So the time to challenge assessments is now.
Based on information shared with the City Council's budget committee, neighborhoods that experienced hefty tax increases four years ago will see some relief while other areas that saw drops may see hikes. These things tend to be grouped by neighborhoods based on similar housing demographics. But all assessments are unique so there can be some outliers in sections of the city.
Mike Fazio and Chris Kerin, executives at Fairfield-based Municipal Valuation Services, a leading assessment company in Connecticut, provided councilors Monday night with a general overview of the revaluation results required every five years by state law. A map was shared highlighting the respective neighborhood revaluation changes from five years ago. Areas in lighter shades should experience tax relief, or remain flat while darker shaded areas may receive a hike because of elevated assessments. Good news is your property is worth more, on the other hand if the mil rate doesn't drop enough to offset that new value your tax bill in July will be higher.
Upper East Side Council member Maria Pereira expressed concern Monday night as a participant on the virtual meeting. Pereira is not a member of the budget committee, not a member of any committee, in fact, but councilors are allowed to ask questions acknowledged by the chair.
Suspicious of the current numbers, Pereira asserted that poorer areas with rising values may be disproportionately hit. Again, depends on the final mil rate.
Finance Director Ken Flatto says property owners can expect to see a drop in the mil rate from the current 54 to the mid 40s, a reflection of "enhancing the value of homes and commercial properties in our city."
One mil currently represents about $6 million so a difference in a couple of mils alone will impact the coming tax bill.
In a statement issued to OIB on Tuesday, Pereira highlights her concerns. She also attached the map shared with council members Monday night.
Out of concern for misinformation being provided to severely overburdened taxpayers in Bridgeport, I am forwarding you the map that was discussed at last night's B & A meeting during the discussion on re-evaluation.

Not a single district's single family (SF) or multi-family (MF) property values were decreased. The lowest increase on single family homes was 11.7% in Black Rock followed by 136-01 which surrounds the Beardsley Park area where Bill Finch lives at 14.1% followed by the Thomas Hooker Precinct at 18%.

Multi-family home values have skyrocketed with the lowest increases in the Beardsley Park Precinct where Bill Finch resides at a 19.8% increase followed by the Thomas Hooker Precinct at 22.2% and the Seaside Park Area with a 25.8% increase.

The current mil rate is 54.2. Even if the mil rate was lowered to 44.0 mils that would only equate to a 19% reduction in the mil rate.

This would only provide single family homes in Black Rock with any meaningful tax reduction. Single family homes in the Beardsley Park area would see a slight reduction with Thomas Hooker Precinct remaining flat.

Not a SINGLE neighborhood would see a tax reduction on multi-family homes. Multi-family homes would see between a 1% to 28% increase in their assessed value which means at even a 10 point drop in the mil rate; most homes would see a substantial increase in their real estate taxes.

The largest tax increases are in the most impoverished and densely populated neighborhoods including the Warren Harding, JFK, Aquaculture, Wilbur Cross, Barnum and two sections in the north end. In addition, apartment buildings and cooperatives saw the largest increase in property values in the Commercial category which means out-of-town developers will pass their significant tax increases onto those least likely to afford it, renters in complexes.

139-02 Warren Harding High School Precinct property values are increasing the most with SF by 52% and MF by 46.9%.

I am just using an average assessed property value of $200,000

$200,000 x 54.2 mils = $10,840 in real estate taxes

$200,000 x 46.9% increase = $97,800 totaling $297,800.

$297,800 x 54.2% mils = $16,140 in real estate taxes

$297,800 x 44.0 mils = $13,103

A house with a current assessed value of $200,000 at 54.2 mils pays $10,840 in real estate taxes.

That exact same house with an assessed value increase at 46.9% = $297,800 with a lowered mil rate of 44 mils will now pay $13,103 in real estate taxes.

That is still an increase in real estate taxes of $2,263 which equates to a 21% increase or an additional $189.00 per month.

I am deeply disturbed by the massive increase planned in our most impoverished precincts, but especially during a pandemic and massive unemployment.