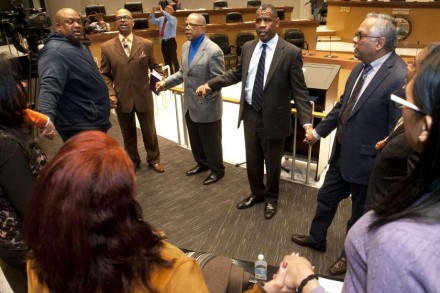 From Brian Lockhart, CT Post:
The mostly minority crowd urged the council, which was holding its regular meeting, to look into allegations that PSEG Power LLC has reneged on promises to hire residents and local contractors to build its gas-fired power plant in the South End.
… PSEG currently operates the controversial coal-fired plant next door to the gas plant construction site. Under the arrangement with the city, community leaders agreed not to oppose the gas-fired development in exchange for PSEG: committing to retire the coal plant in 2021; establishing the jobs apprenticeship program, and "maximizing efforts" to use workers with prior experience or graduates of the apprenticeship program "for the duration of the construction of the project."

… Denese Taylor-Moye, a council member for the South End, supports PSEG and its link to The Workplace.

"This is not for jobs, this is for training," Taylor-Moye said Monday of PSEG's deal with the city. "Training, certification, getting licensing and being placed in a union." She said the crowd of protestors was "misinformed."
Full story here.