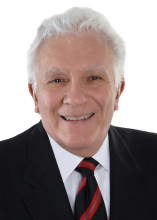 News release from Council of Italian-American Societies:
Strike up the bands, tune up the instruments, unfurl the flags, the Columbus Day Parade & Celebration, the oldest continuous parade in the state, is preparing to step off Sunday, October 12 in Bridgeport's North End. The 106th Columbus Day Parade & Celebration, sponsored by the Council of Italian-American Societies of Greater Bridgeport (CIASGB), will begin at the corner of Wayne St and Jewett Ave in Bridgeport's North End at 1 pm, and then proceed south on Wayne St to Madison Avenue, finishing at the Central High School parking lot.
Leonard S. Paoletta, former mayor of Bridgeport, will preside at the parade as many as 60 different units, including bands, floats, politicians and organizations will march in the parade.

"The parade is really rounding into shape," Paoletta said. "We have a wide variety of bands and organizations represented that will entertain spectators along the route. All we need is good weather, area residents to turn out to celebrate the Italian-American culture that is so vital to this area."

Some of the scheduled parade participants are: Rick Macri's La Banda delle Seste Italiane, a 20-piece Italian Marching Band of New Jersey, The Fairfield Gaelic Club Pipes & Drum, the Pyramid Shriners Pipes & Drum, Chester Fife and Drums of Chester, CT, Bridgeport Elks, Central High School and Kolbe/Cathedral High School cheerleaders, clowns from the Ringling Brothers & Barnum and Bailey Circus, Freedom Guide Dogs, Shriners T-Bird miniature cars and motorcycles, Port 5 Naval Veterans and several other Bridgeport VFW's.

In addition, CIASGB will sponsor a replica of the Santa Maria, one of Columbus' ships that will carry the Grand Marshal. Other float sponsors are: Bridgeport Area Cultural Council Italian Organization (BACIO), Circolo Sportivo Italo-Americano, Habitat for Humanity, University of Bridgeport, and the Barnum Festival in conjunction with Port Five Naval Veterans.

In addition to the parade, CIASGB will host an Italian Street Festa from 11 am–5 pm on Madison Avenue between Wheeler Avenue and Beers Street, organized by Jay Piccirillo, Festa Coordinator. The Street Festa will feature vendors, selling pizza fritta, pasta, sausage and peppers, Italian ices, and other Italian dishes as well as a cannoli eating contest, featuring Luigi's Italian Pastries of Bridgeport. Prior to the Parade, a show highlighting the rich heritage of the Italian culture will take place on stage from 11 am – 1 pm in the parking lot of Micalizzi's Italian Ices, 712 Madison Avenue. Performances will include singers from the Greater Bridgeport area and Dancin' In the City Dance Troupe of New Haven.

Honorary Grand Marshals, comprised of the current Bridgeport Mayor William Finch and former City Mayors will also ride in the parade: John Fabrizi, Thomas Bucci, and Nicholas Panuzio; Shelton Mayor Mark Lauretti and former Trumbull First Selectman Paul Timpanelli. Richard Iannucci of Stratford, the Parade Chairman, will also take part in the festivities. Rounding out the parade roster are the Grand Marshal's advisors: Mike Bisciglia of Trumbull and former Grand Marshals Mike Marella of Bridgeport, Frank Gennarini of Milford, and Joseph Ambrosini of Trumbull.

Urging area residents to celebrate their Italian-American heritage, Paoletta, an Easton resident, said: "I'm very honored and excited to serve as Grand Marshal of the Columbus Day Parade and Festivities. I grew up in Bridgeport and started watching the parade when I was a child. We have expanded the parade this year and want everyone to turn out to celebrate the proud heritage of the Italian Americans who helped shape this part of Connecticut into what it is today."

The CIASGB has been the sponsor of the Columbus Day Parade & Celebration for 35 consecutive years. CIASGB was formed in 1978 to operate exclusively for charitable, literary and education purposes in recognizing the contribution of Italian-Americans to this country.