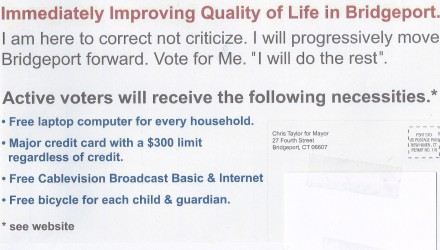 Bonanza is a favorite television show of petitioning candidate for mayor Chris Taylor and if you elect him he promises to lavish a bonanza of goodies such as a free laptop, a credit card with $300 limit, free cable and free bicycle for each child and guardian. Quick, get in line for Election Day Nov. 3.


Bridgeport hasn't had a Socialist mayor since penny-pinching Jasper McLevy, 1933-57. McLevy was actually more reformer than Socialist; he was extraordinarily cheap with taxpayer dough. In this bizarre election cycle Taylor has added a folksy peculiarity to forums. He sometimes introduces himself "I am Chris Taylor and I am not perfect, I have done some things in my life" without specificity. He says he will "gladly present my plan for Bridgeport in a Powerpoint presentation to any group of ten or more registered voters."
From his website:
"Idle time is the hand of the devil."

I will bring an abundance of fun and interesting activities to Bridgeport. These include:

· Dirt bike track

· Bicycle trick team

· Race track & drag strip

· Deep-water fishing boat

· Hot-air balloon festival

· Tour de Bridgeport

State-of-the-art · senior/community center

· Bridgeport Marathon

· Major League Soccer Team

The idea is to create a fun but safe environment for the people of Bridgeport. Let's take the exciting stunts performed by the talented people of Bridgeport and give them a safe outlet of expression. We don't need to sacrifice fun for safety. I am excited to hear about your ideas for Bridgeport's activities. There is no limit to what we can do.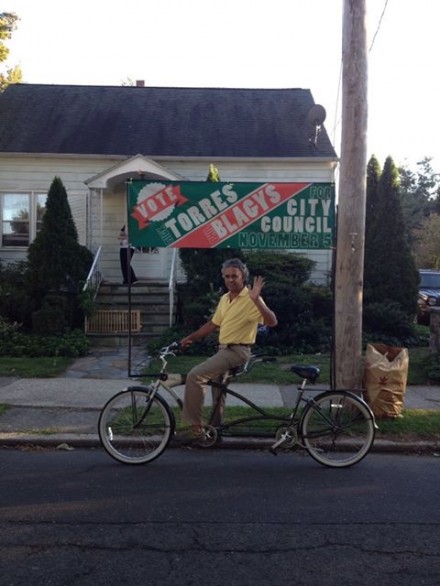 Republican mayoral candidate Enrique Torres has a bicycle built for two. Maybe Taylor will hand those out to multi-voter households.